Xinji City, located in North China'sHebei Province-- about 300 km south ofBeijing-- is well known for its many folk handcrafts, including paintings, embroidery, glued-cloth pictures, toys andtigershoes. Wall hangings are new products combining the techniques of painting with embroidery and glued-cloth pictures.The materials required for wall hangings are simple: cheap cotton, wool, cloth and thread. The works, which are full of imagination and creativity, convey the folk artists' understanding of life and represent their love for nature and life. Themes mainly includerural life, traditional opera, folk festivals, folk tales and mascots.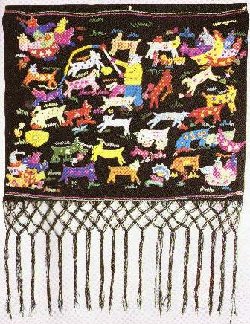 The shepherd, for example, represents rural life and the local people's love of nature. In the background of the picture is green grass and flowers, with a shepherd and dozens of sheep standing harmoniously in the foreground. As one of the six common animals in China believed to be lucky, the sheep is beautifully represented in wall hangings.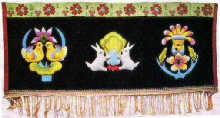 Auspiciousness displays people's pursuit for a happy life. Mandarin ducks and the lotus flower also symbolize a sweet and harmonious family life. While the rabbit connotes abundance, the magpie and plums represent good luck.