Spring Festival, China's most celebrative occasion, begins its annual felicitations with the posting ofNew Year pictureson the walls and windows on the 24th of the 12th month in the lunar calendar according to tradition. The pictures convey people's jubilation and expectations of the coming new year.
However, in a century of rapid globalization, how many traditions have been lucky enough to survive? Is the New Year picture bound to disappear from people's memory?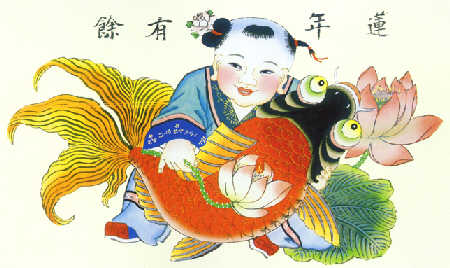 Traditional New Year pictures mainly feature local people's life and customs with intense colors and violent contrast. Famous pictures like "Fat Baby," "Abundant Harvest of All Food Crops," and "Surplus Every Year" have been prevailing across China for hundreds of years. Nonetheless, today, these pictures can hardly be found in some modern metropolises likeShanghai, which was once a prosperous place for New Year picture manufacture and consumption. Some think that the disappearance of New Year pictures is unavoidable. So what remains beneath the continuing disappearance?

 Epitome of traditional customs
Chinese New Year pictures not only serve mainly as an embodiment of folk customs, but also boast decorative and appreciative values.
"People post these pictures around the walls of the kang (a heatable brick bed in North China) and on the windows for ornament. The pictures' contents include folk tales, ancient legends, historic stories, and real life scenarios, and thus boast appreciative value," noted Feng Jicai, a famous writer as well as the president of the China Folk Artists Association that is dedicated to rescuing China's folk culture, including the investigation and rescue project of woodblock.