The flourishing of the painting academy in the Song Dynasty was largely due to Emperor Huizong's interest in painting andcalligraphy. Emperor Huizong, whose name wasZhao Ji, was the initiator and an active supporter of the academy, and also a painter and connoisseur of painting. He required his painters to draw inspiration from nature and grasp both the subject's image and inner world. Once Zhao asked the painters to draw a peacock spreading its tail, but he was not satisfied with their works. When they asked why, he explained that the peacock usually raises its left foot first when it spreads its tail, but all the painters had the peacock's right foot raised.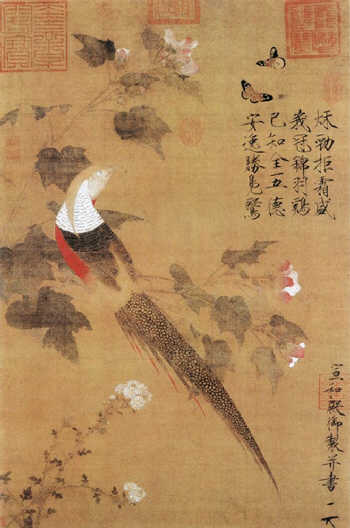 Hibiscus and Golden Pheasantby Zhao Ji
Zhao not only paid attention to painting sketches, but also the physical aspects of the paintings. He once drew 20 different gestures of a crane. When he drew birds, he liked to use lacquer to highlight their eyes to make them stand out from thepaperand appear brighter and more prominent. He achieved much in portraiture and in paintings of mountains, rivers, flowers and birds, but was best known for his flower and bird paintings. Representative works with his signature includeWild Birds on Wild Prunus,Hibiscus and Golden PheasantandCranes. Because of his special social position, some works with his signature might have been drawn by his imperial painters. Another of Zhao Ji's important achievements was that he created the shoujin (slender gold) style of calligraphy. He also played an active role in collecting and classifying art heritages, and he suggested editing several ancient calligraphy and painting books.
Zhao Ji was a foolish emperor in Chinese history who caused the collapse of the Song Dynasty, but he did made great contributions to the development of Chinese art. He was not a good politician but a fine artist.