Ancient Chinese paintings can be traced back to as early as 5,000 to 6,000 years ago, when people began to use minerals to draw simple pictures resembling animals, plants, and even human beings on rocks and produce drawings of amazing designs and decorations on the surface of potteries and laterbronzecontainers. However, only a few of the works have survived over time. The earliest drawings that have been preserved till today were produced onpaperand silk, which were burial articles with a history of over 2,000 years.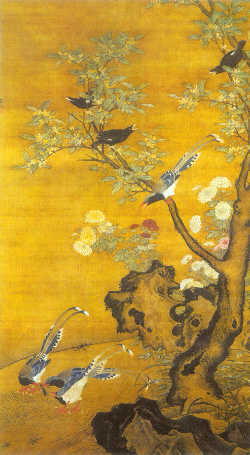 By Lu Ji,Ming Dynasty
As far as the subject is concerned, Chinese paintings fall into several categories, such as figure paintings, landscapes, andflower-and-bird paintings. European paintings, introduced into China in 17th century, were called "Western paintings," and the traditional local works, "the Chinese paintings."
As the representative of Eastern paintings, Chinese paintings greatly differ from the Western counterpart in terms of contents, forms, and styles. The following will give you a more vivid picture of the exotic Chinese paintings.