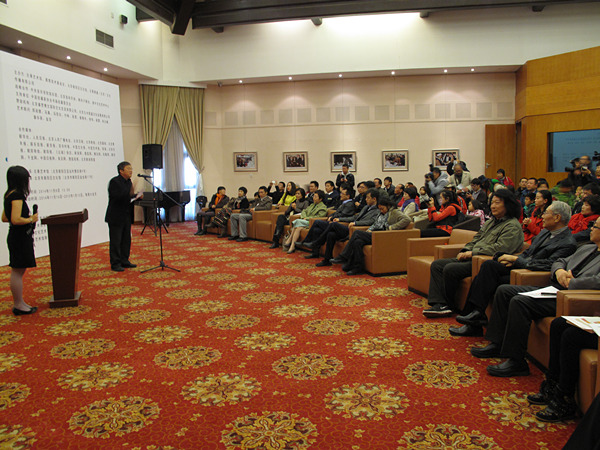 Cui Xiaodong, curator of the Yan Huang Art Museum, gives a speech at the opening ceremony. [Photo by He Keyao/chinaculture.org]
The first Yan HuangArtand Culture Festival kicked off in Beijing on Nov 8. Citizens will have a free feast of up to 30 performances and activities with rich and diversified themes during the two-month event at the Yan Huang Art Museum.
The project, co-hosted by Yan Huang Art Museum and Huang Zhou Art Foundation, aims to promote traditional art of different Chinese ethnic groups and to offer a platform where artists, scholars and art lovers across the country can exchange their understandings and ideas on Chinese culture.
As the first art festival of this kind, the event sets up five sections for the public: art exhibition, live performance, seminar and forum, volunteer training and to create a database of ethnic art.Traditional folk art performances, such as shadow puppet show and Hakka folk songs will be staged.
"The original folk culture is going away from us in this city of concrete jungles and we hope that we can call it back by holding activities like this," Xu Wei, deputy director of Chaoyang District Culture Committee and head of Chaoyang District Culture Museum, said in the opening speech. He said the traditional social structure and ways of living are disappearing due to rapid urbanization in the country, which puts traditional folk art and ethnic culture at risk of dying out.
Cui Xiaodong, curator of the Yan Huang Art Museum, Chen Bali, director of the Chaoyang District Administration of Cultural Relics, Feng Shuangbai, vice chairman of the China Dancers Association and Fu Lin, chairman of the Pop Music Society of the China Musicians Association, also gave speeches at the opening ceremony.
They stressed the importance of protecting and promoting the folk and ethnic art of China's different regions in modern times. More than 200 people were in the art festival's first audience, where they had a taste of traditional stallteawhile listening to folk storytelling performances.
A team of 30 folk artists fromYunnanalso performed traditional music and dance of the Naxi ethnic minorities after the opening ceremony, which brought the first day of the event to a climax.
Different exhibitions and activities will be open to the public every Saturday until Jan 10.