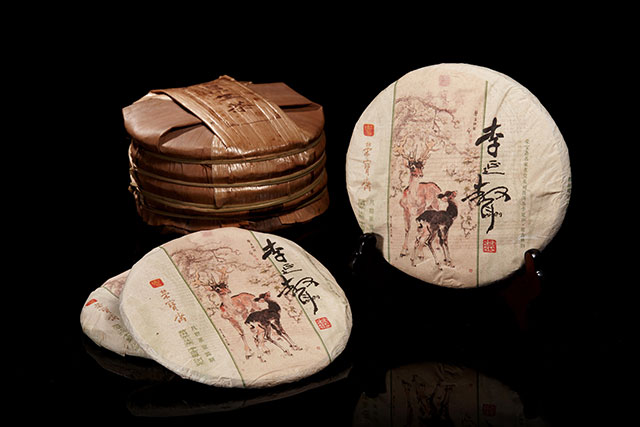 Rongbaozhai establishes its guiding principle of "integrating painting into tea, blending tea with painting".[Photo/chinaculture.org]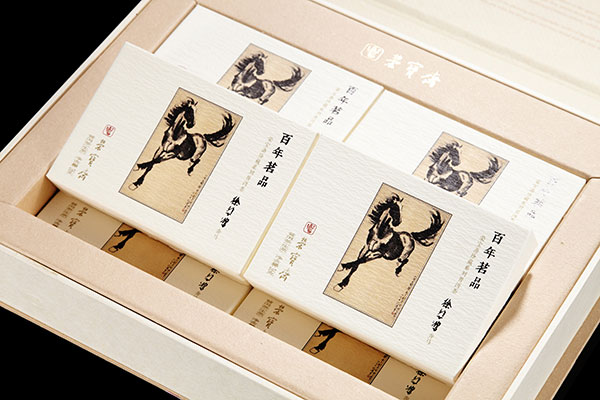 Chinese painter Xu Beihong's Running Horse Painting series Pu'er tea. [Photo/chinaculture.org]
Chinese time-honored brand Rongbaozhai has recently declared that it will advance into the field of tea culture and integrate artworks with the tea industry, which marks a new step towards its diversified operation.
Sun Gang, general manager of Rongbaozhai Tea Culture (Beijing) Co., Ltd., said in an interview that Rongbaozhai had established its guiding principle of "integrating painting into tea, blending tea with painting" when starting the company. It would be a brand-new growth point for Rongbaozhai to introduce tea culture into its traditional arts system.
Rongbaozhai Tea Culture (Beijing) Co., Ltd. has so far developed different series of new products, including the collectable Pu'er tea of the "Hundred Years' Brand-name Tea" series. It focuses on masterpieces of calligraphers and painters from modern and contemporary times, Pu'er tea of the classic collection series and Pu'er tea of the quality tea series.
Among all these new products, Pu'er tea with Chinese famous painter Qi Baishi's Two Peaches Painting (peach indicates longevity in Chinese) series and celebrated painter Xu Beihong's Running Horse Painting series could serve as exemplary models. These two series select first-class, large-leafed spring tea from Yunnan province as ingredients, polish it with a traditional manual grind, and mold it by hand into cake and brick shapes. And Qi and Xu's wood-block paintings add the finishing touch to the series, putting the concepts of tea and painting, fortune and longevity and tea and horse together.
Rongbaizhai will further develop a new series of Pu'er tea with a focus on the development of contemporary culture and arts. The works of famous artists like Yang Xiaoyang and Long Rui will be included in this series.