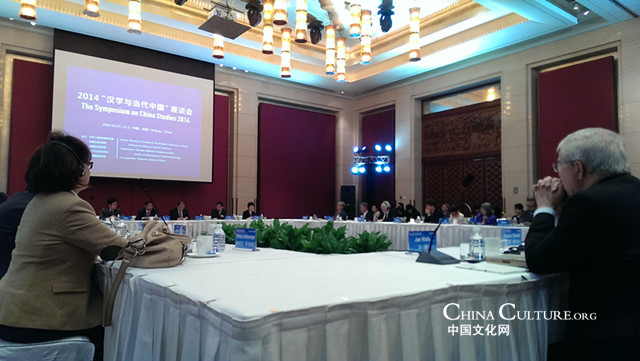 Scholars and Sinologists listen to the closing speech at the second Symposium on China Studies in Beijing [photo by He Keyao/Chinaculture.org]
China aims to show the world a true China free from politics and propaganda, said the Vice Minister of Culture at the closing ceremony of the second Symposium on China Studies in Beijing on 30 Oct .
The second Symposium on China Studies in Beijing came to a close on Thursday. The three-day academic event, co-sponsored by the Chinese Ministry of Culture and the Chinese Academy of Social Sciences, was attended by more than 30 Sinologists and experts from 18 countries.
Zhang Jiang, the deputy head of the Chinese academy of Social Sciences and Ding Wei, the Chinese vice-minister of Culture attended the closing ceremony.
"Many people think that Chinese government is doing propaganda work, which, in fact, is the last we want to do," said Ding. "We simply hope that people can grab a truthful understanding of China, real China."
Ding said he feels the biggest change in China in recent years hasn't been the economy or infrastructure but rather the Chinese people. He said that the thoughts of the Chinese people is what has changed and that this aspect is something rarely addressed in China Studies.
Ding stressed, the way Chinese people view China and themselves, the perspective through which they see the world and the attitude they hold towards international affairs have changed. Though Chinese people need to continue their effort to abandon nationalist emotions and Cold War era mentalities, Ding said that China sincerely and whole-heartedly believes that different countries can co-exist peacefully in the world.
He pointed out that the mutual understandings between China and the western world is unbalanced. Chinese people tend to see the western countries in a positive way – the excellence of cultural heritage, the masterpieces of well-known writers and scholars etc., whereas their western counterparts often see China in a negative way, focusing on the undeveloped fields, Ding said. His remark echoes comments made by many other public figures, including Bai Yansong, one of China's top TV presenters and journalists. Addressing a crowd of scholars, Ding said that Sinologists are one of the most important people to help bridge China with the West. He adds that bringing understanding between the two is a "long journey".
"There are no political goals on this table, even though the event is sponsored by the government." He said. "We hope to offer a platform where scholars can directly interact with the Chinese policy makers."
Liu Qibao, the Chinese Minister of the Publicity Department of the CPC Central Committee, attended the event and joined the discussion with the Sinologists and scholars present on 29th Oct.
We Recommend: