The fourth quarter press conference of China's Ministry of Culture (MOC) was held in Beijing on Oct 20. Plans to help flourish art creation and improve the country's public cultural services were publicized.
Director General of the General Office and MOC Spokesman Yu Qun said that MOC's press section has been renamed the Press Office to strengthen information disclosure.
Zhu Di, Director of the Fine Art Department of MOC, introduced the plans to flourish artwork creation.
Zhu said, China will invest nearly 100 million yuan ($16.3m) in developing non-profit performances made by troupes affiliated with the central government.
According to Zhu, the ministry will further improve art administration and strengthen guidance over art creation, in response to President Xi Jinping's view that art should serve the people. On Oct. 15, Xi urged artists to create more works that are both artistically outstanding and morally inspiring to present socialist core values.
China will also improve policies to reform opera troupes, Zhu said. "China will come out with concrete measures to develop local operas to promote the development of traditional culture," he said.
On the standardization of public cultural services, Director of Community Culture Department of MOC Zhang Yongxin said that the MOC, together with the relevant institutions, has formed the standards for basic national public cultural security, which is expected to be released in the near future.
Zhang revealed that the standards for national basic public cultural service security are related to the 13th five-year plan (2016-2020).
The standards cover various areas such as the scope, facilities and personnel of basic public cultural services.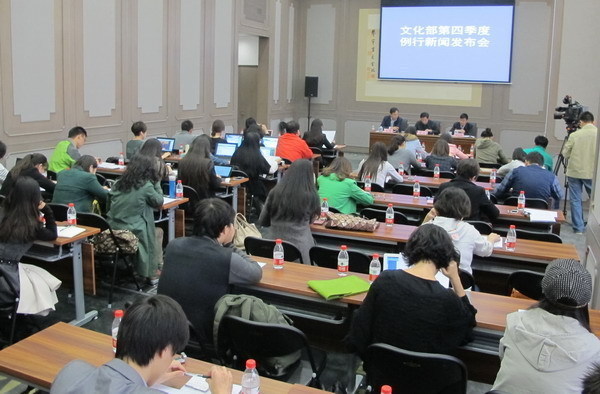 China's Ministry of Culture holds its fourth quarter press conference in Beijing, Oct 20. Photo by Wen Yi/Chinaculture.org