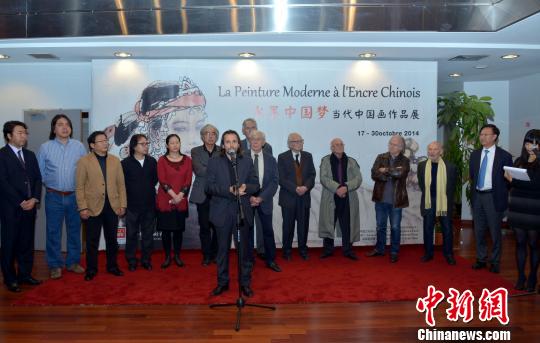 The curator of the Cernuschi Museum makes a speech at the launch ceremony.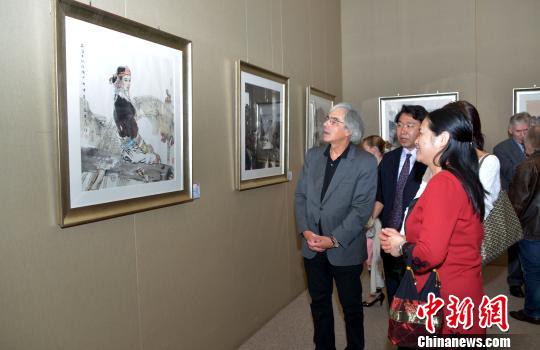 Guests enjoy a Chinese painting.
The Chinese ink painting exhibition Ink-Chinese Dream was opened to the public on Oct 16 at the China Cultural Center in Pairs. Many celebrities from the Chinese and French art world attended the launch ceremony.
Tao Qin, deputy secretary-general of the China Artists Association (CAA), Li Yang, vice-present of the China National Academy of Painting, Tang Hui, president of Rongbaozhai Art Gallery and nearly 100 guests attended the ceremony.
Tao Qin said in her statement that the unparalleled achievements that Chinese artists made and the unique charm of Chinese classical art are all included in these paintings. Compared with the time-honored history of art, the exhibition seems like a drop of ocean. But in the eyes of the Chinese and French people with deep traditional friendship, this exhibition will shine with extraordinary splendor.
The curator of the Cernuschi Museum said that these Chinese traditional paintings show that Chinese artists well inherit their painting tradition and make innovations. In the international art market, many paintings by famed Chinese artists enjoy popularity and artists have been promoting the development of painting art in China by constantly composing and exploring.
The event was jointly sponsored by CAA, Rongbaozhai Art Gallery and China Cultural Center in Paris. Thirty-three ink paintings in different genres, covering themes that include figures, landscape, flowers and birds, will be presented to audiences. The exhibition will open to public from Oct 17 to 30.
The exhibitions, according to the host, show that Chinese artists are good at grasping the theme of the times and they actively pursue the purity of art language and explore the possible ways to show art. In addition, they constantly seek the deep spirit of Chinese culture and focus on renovating it. The host wished to give people artistic enjoyment and help French people to know more about Chinese culture and the inner world of Chinese people.