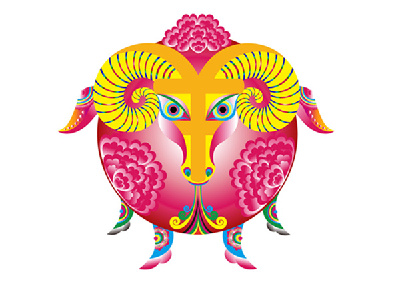 Mascot for the Year of the Sheep.[Photo/Chinaculture.org]
Since 2009, a number of celebrations have been held overseas under the theme, Happy Chinese New Year, engaging both overseas Chinese and citizens from all over the world. The Ministry of Culture has launched the sixth Happy Chinese New Year in 2015, when over 800 programs will be staged in more than 320 cities in 118 countries and regions. Happy Chinese New Year will begin on Feb 4th, and end on Mar 5th, the Lantern Festival.
Happy Chinese New Year is a worldwide celebration hosted by the Ministry of Culture of the PRC and other Chinese authorities. It seeks to provide a global platform that is joyful, harmonious and accessible to all, to encourage people across the world to celebrate the Chinese New Year, experience the profound yet interesting Chinese culture and understand the huge achievements China has made, as there emerges a worldwide boom to visit and know China.
Highlights of "2015 Happy Chinese New Year" programs

 in English-speaking Countries and Regions 

Country/Region

City

Program Name

Program Type

Date

US

New York

Performance by the Nai-Ni Chen Dance Company

special performance

Jan 25-Feb 7

US

New York

Light Show at the Empire State Building

exhibition

Mid-February-March

US

New York

Performance by the New York Philharmonic for Spring Festival

special performance

24-Feb

US

Los Angeles

Hollywood Spring Festival Gala

TV gala

23-Jan

US

Los Angeles

Beijing Culture Week

comprehensive activities

February

US

Chicago

Special performance by the Puppet and Shadow Art Troupe of Shanxi Province

theatre performance

Feb 17-22

US

Chicago

Performance by the Chicago Symphony Orchestra for Spring Festival

special performance

15-Feb

US

Chicago

Window displays in Macy's, Bloomingdales, Tiffany, North Bridge and outlets at the airport

picture exhibition

Feb 10-Mar 15

Australia

Melbourne

Performance by the Melbourne Symphony Orchestra for Spring Festival

special performance

28-Feb