Lao New Year Story and celebration in Luangprabang
Embassy of Lao PDR in Beijing
2020-11-09
Lao New Year Festival takes place in Fifth Month of Lao Luna Calendar (April in international calendar) and it is belief of 12 monthly practices and 14 general practices. Many activities were held during the festival such as water throwing, watering Buddha image in a temple, making sand pagoda, arm giving, forgiving ceremony, etc. Lao People celebrates this festival in whole country, traditionally in Luangprabang that had endorsed as the UNESCO world heritage city where many ancient and so-called cultures of Laos comprise in.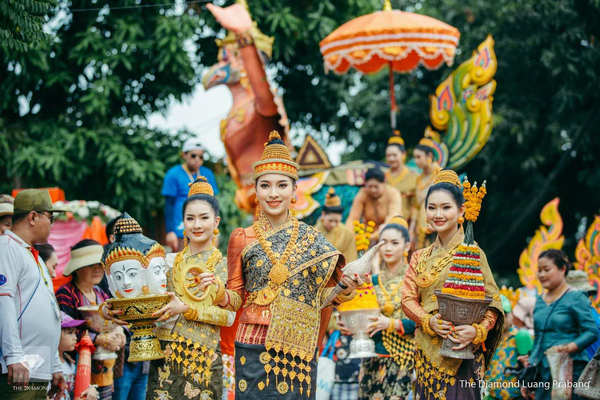 Lao Beauty Girl who become seven daughters of "Kabiraphomma"
In this connection, The Lao New Year celebration in Luangprabang is very unique, fantastic and cultural. Based on the Lao ancient story of Lao new year, Kabiraphomma (the ancient god with four faces) who pretended himself as the cleverest human in the world asked the question to a young boy name Thammabankouman who was respected from peoples as the cleverest human because he understands animal language, if Thammabankouman can answer, Kabiraphomma will cut his own head. Finally, Thammabankouman could answer to the question of Kabiraphomma and he decided to cut his own head and give to his seven daughters. Before his dead, he advised his seven daughters to keep his head to the great top cave in the world because the land will be burn if his head stay near the land surface and the water will be dry if his head stay near the river or sea. He further told his daughters to bring his head to clean by water on mid-April (based on Lao Luna calendar is the fifth month). Therefore, Lao people follow that commands, the government host the contest to select seven women supposed to be seven daughters of Kabiraphomma and projects the parade of seven daughters with status of head in city call "Hea Nang Sang Kan" and watering the status of head every April in Lao New Year.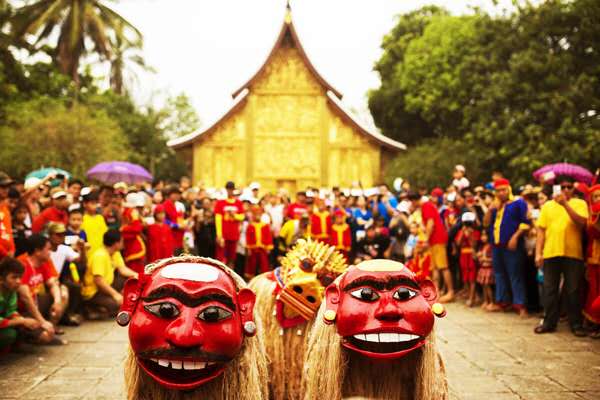 "Pou Yer Ya Yer" Lao Great Grand Parents who devote themselves for Lao People
Moreover, Luangprabang people also have a parade of Lao Great Grand Parents Name "Pou Yer Ya Yer". Base on another Lao ancient story telling that old father and mother who devoted their life to cut the big danger tree that blocked the sun to the world surface, which created favourable environment for living thing until they died. In order to memorize their noble devotion, Lao People especially in Luangprabang celebrate by making a parade in Lao New Year every year and Luangprabang people end their phrases by word "Yer". In the parade, there are many monks and ancient Buddha status for visitors to watering for the best wish.
Contact us
Address:Asean-China Centre, No. 43, Liangmaqiao Road, Chaoyang District, Beijing, China
Postcode: 100600
Tel: 86-10-65321660 ext 636
Fax: 86-10-85322527
Weibo: weibo.com/aseanchinacentre