Huaqiao University's launches online school for overseas students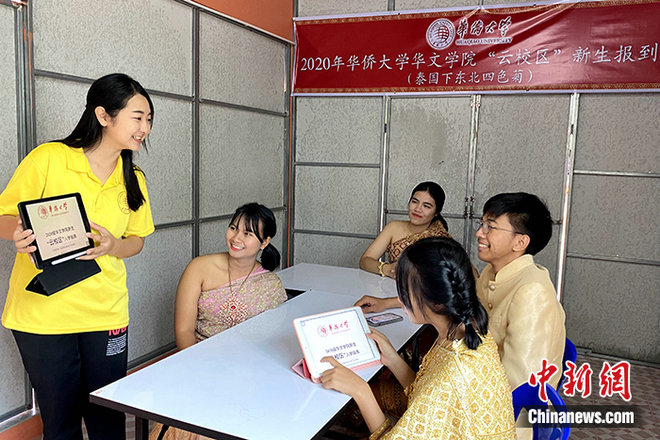 Offline "cloud college" in Thailand.
Damesi, a freshman from the Philippines majoring in Chinese language at Huaqiao University, was unable to check in the school on Sept 20 because of the COVID-19 epidemic, but she completed her registration in a special way by logging on to the "Cloud Campus of School of Chinese Language and Literature of Huaqiao University".
September 20 was the registration deadline for 2020 freshmen of Huaqiao University. This year, 428 foreign students from 20 countries, including Thailand, Indonesia, Myanmar, Russia and France, enrolled in the School of Chinese Language and Literature. All of them were temporarily unable to report to the school for study due to the epidemic.
To allow the students register, the school set up for them a "cloud college" and helps them study through this online program just like students on the campus.
Overseas students watched and attended new-term opening ceremony via "cloud college". And began studying online.
"Cloud college" also organized offline groups in Thailand, Indonesia, Laos, Cambodia and the Philippine, providing face-to-face help about "cloud college" for overseas students.
"I felt worried and bad for not being at university due to the pandemic. But now with the help of the seniors, I can study online, which makes me feel a sense of belonging." Damesi said, adding that she hopes the disease would end as soon as possible and then she could meet her classmates and friends on campus.
Contact us
Address:Asean-China Centre, No. 43, Liangmaqiao Road, Chaoyang District, Beijing, China
Postcode: 100600
Tel: 86-10-65321660 ext 636
Fax: 86-10-85322527
Weibo: weibo.com/aseanchinacentre