International Music Week 2020 raises baton in Chengdu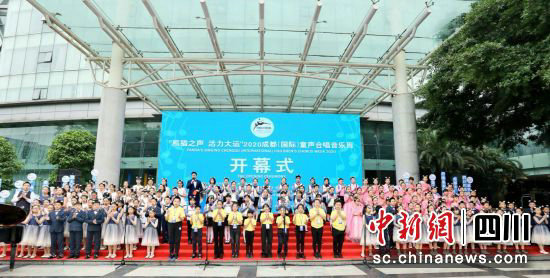 2020's Music Week has launched in Chengdu, adopting an "Abroad online, domestic offline" mode. Children's choruses from Thailand, Japan, South Korea, the United States, Australia and other countries have overcome the difficulties and joined the online music week. Choruses from Chongqing, Sichuan province, Guangzhou, Guangdong province and Chengdu, Sichuan province performed live.
The themed song Summer, We are Here was released at the ceremony. The song was produced specifically for this year's music week, and because the host city is Chengdu, the music video contained typical scenes of the city. Due to the pandemic, the music week this year was delayed until autumn, but the children still showed great enthusiasm.
The MV will be simultaneously played on TV and mobile phone apps. It will also be shown at Chengdu metro and bus stations, airports and big outdoor screens in public.
During the music week, the chorus visited landmarks and scenic spots and historical sites online in Chengdu. Choruses from Chongqing and Guangdong went to the Du Fu Thatched Cottage Museum and Chengdu Research Base of Giant Panda Breeding. With the children chorus from Chengdu, they gave a special concert at "White Deer Town" in Pengzhou.
A "Children's chorus training online Exchange Forum" and "Children's chorus online Music Festival" were also broadcast, the activity as well as performances from children's choruses at home and abroad.
Contact us
Address:Asean-China Centre, No. 43, Liangmaqiao Road, Chaoyang District, Beijing, China
Postcode: 100600
Tel: 86-10-65321660 ext 636
Fax: 86-10-85322527
Weibo: weibo.com/aseanchinacentre