Deepavali in Singapore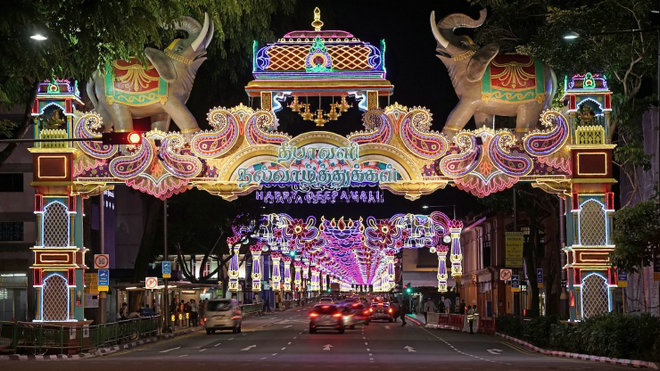 Little India during Deepavali festival.
Deepavali, Diwali in Hindi language, is the day for Hindu pilgrims' celebration of justice defeating devil. Deepavali is a main national cultural festival in Singapore. Thousands of Hindu families in Singapore, with other Hindu families all over the world, light warm yellow oil lamps at home and pray to Lakshmi, the goddess of fertility and prosperity on Deepavali. And they also send gifts to each other and share feast.
On the eve of the day, Hindu families go to Little India and buy various things for the festival. People also take photos at the streets decorated with lanterns and streamers. These decoration and statues sre on the streets for at least one month after the festival, welcoming the visitors from all over the world to visit and celebrate the day with local people.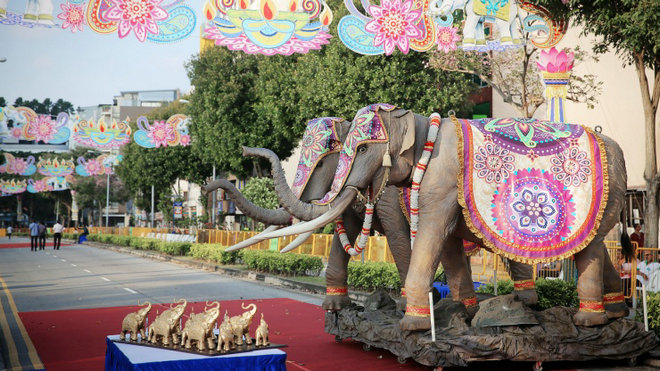 During the festival, the notable statues of elephant and peacock stand in Little India. In accordance with the tradition of Hindu religion, elephant implies loyalty and wealth, and peacock victory, love and wisdom. For this reason, most of jewelry sold in this cultural community is imprinted with the logos of elephant and peacock.
The patterns made of flour and rice and flowers were hung on the door making the Hindu families easily noticed during the Deepavali. The patterns are colorful and vivid, some of them are geometric, and some of them are images like flowers and animals, or some images from nature. These patterns are called "rangoli". People hope rangoli would attract gods to come to visit their home and offer them protection in the year ahead.
Contact us
Address:Asean-China Centre, No. 43, Liangmaqiao Road, Chaoyang District, Beijing, China
Postcode: 100600
Tel: 86-10-65321660 ext 636
Fax: 86-10-85322527
Weibo: weibo.com/aseanchinacentre