Collecting ASEAN Short Stories and Information of ASEAN Cultural Festivals: We want your contributions!
ASEAN-China Centre
2019-04-17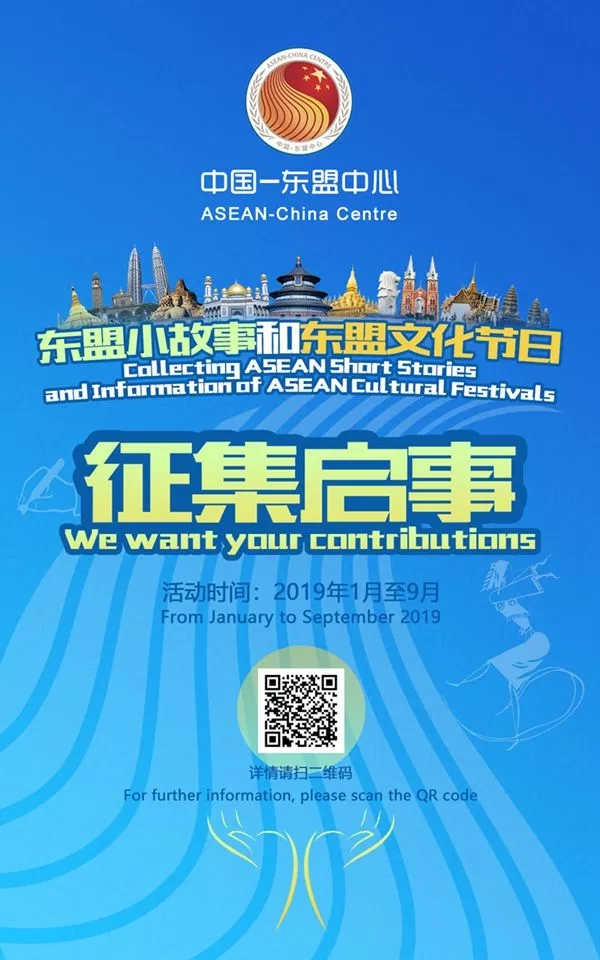 I. Background
2019 is designated as ASEAN-China Year of Media Exchange as well as ASEAN Culture Year. ASEAN-China Centre (ACC) is scheduled to Collect ASEAN Short Stories and Information of ASEAN Cultural Festivals. This activity aims at providing a platform to showcase the colorful culture of ASEAN, to share the knowledge about ASEAN, so as to enhance mutual understanding and friendship between ASEAN and China.
II. WHO are we looking for?
Anyone who is interested in ASEAN culture is welcomed to submit ASEAN short stories, information and photos of ASEAN cultural festivals. Organizations, institutions, communities and individuals from Chinese and ASEAN countries are all welcomed.
III. WHEN should you submit?
From January to September 2019.
IV. WHAT do you need to submit?
ASEAN Short Stories
1. Each story around 600-800 words
2. Either traditional or original stories
3. Both in Chinese and in English or official languages of ASEAN countries, dual language version
4. Echoing 2019 ASEAN-China Year of Media Exchange and ASEAN Culture Year, to showcase the diversity of ASEAN Culture and share the knowledge about ASEAN
ASEAN Cultural Festivals
1. Information of the cultural festivals (Time, Place, Brief introduction etc.)
2. Both in Chinese and in English or official languages of ASEAN countries, dual language version
3. At least 5 Photos of each festival
Photos must be in TIF or JPG format. TIF file should be no smaller than 50 MB, the highest compressed format of JPG file no less than 7 MB, and the maximum should be no less than 3,000 pixels. All the photos should be added the places, time and brief introduction.
V. How do you participate?
Please submit the information sheet, along with stories and photos with your entries to hongjingjing@asean-china-centre.org
VI. Prize
If any ASEAN Short Stories and information of Cultural Festivals is selected, the author will earn a souvenir of ACC.
VII. Statement
1. The entries should not contain any pornography or violence elements and should obey the laws and regulations of the People's Republic of China and ASEAN Member States.
2. Once the entries are submitted, it means that the author has agreed that ACC has the right to use their works in other activities or products, such as exhibition, printing, publication, poster and handbook design. The sponsor also has the right to recommend the works to related media and will not pay the author for use.
3. All participants should guarantee their ownership of copyright for the entries, or that they have the right to authorize the entries' use in publications, promotions, printing and screenings. The author(s) should promise that all legal responsibilities and economic losses shall be borne by himself (themselves), including but not limited to results of the products' infringement of intellectual property, portrait rights and reputation rights, defamation and other violations of laws and regulations.
4. All participants should ensure the authenticity and accuracy of the filed content in the information sheet. The organizer will not be responsible for any errors or misunderstanding caused by incorrect, incomplete or inauthentic filing.
5. All submitted entries will not be returned. Please create backups beforehand.
6. Entries that don't meet the requirements above will be disqualified.
7. By submitting entry to take part in the activity, the participant agrees to accept these rules.
8. ACC have the right of final interpretation of the rules.
Annex:Information Sheet on ASEAN Short Stories and ASEAN Cultural Festivals
Contact us
Address:Asean-China Centre, No. 43, Liangmaqiao Road, Chaoyang District, Beijing, China
Postcode: 100600
Tel: 86-10-65321660 ext 636
Fax: 86-10-85322527
Weibo: weibo.com/aseanchinacentre