China Mobile Science and Technology Museum tours through Myanmar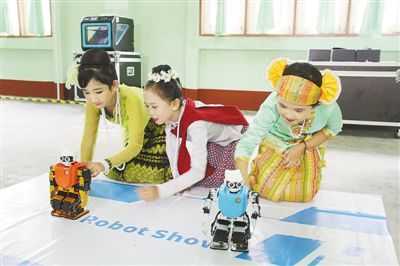 Burmese students playing with robots at the China Mobile Science and Technology Museum.
The Myanmar international tour of China Mobile Science and Technology Museum, which carries the theme of "Experience Science, Enlightenment and Innovation", continued at the No. 6 Middle School in Naypyidaw, Myanmar.
This is the first time China's mobile science resources have gone abroad to provide science services to the public along Belt and Road Initiative countries.
"It is very important for Myanmar students and teachers to learn how to strengthen their innovative ability and creativity from the exhibition," said Miao Dengji, Myanmar's minister of education. "Thanks to China's support."
At the opening ceremony, science and technology tutors from the China Science and Technology Museum performed a scientific experimental drama, "Crazy Circus", for the audience. The stage drama was used to integrate science knowledge with scientific experiments, so that the Burmese public can understand in a relaxed atmosphere.
"It's very interesting to experience so many novel technology presentations for the first time. I feel that technology is closer to my life, and learning science will become easier," said Ge Shengdan, a first-year high school student at Naypyida Middle School.
Since 2013, China has invited more than 50 young Myanmar scientists to work in China, and more than 150 scientific and technical personnel have gone to China for training.
The China Mobile Science and Technology Museum's "One Belt, One Road" international tour exhibition was launched in October 2017 in order to transfer China's popular science resources to some countries in the Belt and Road Initiative and developing countries in need, and promote global mobile science resources.
In addition to Myanmar, the China Mobile Science and Technology Museum project will also cooperate with Cambodia and Laos to carry out pilot work this year.
Contact us
Address:Asean-China Centre, No. 43, Liangmaqiao Road, Chaoyang District, Beijing, China
Postcode: 100600
Tel: 86-10-65321660 ext 636
Fax: 86-10-85322527
Weibo: weibo.com/aseanchinacentre