14th China-ASEAN Etiquette Competition launched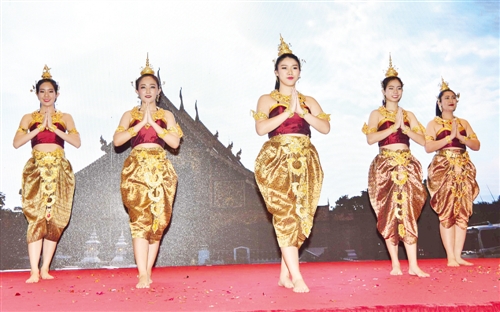 Dancers from Thailand preform at the ceremony in Nanning on March 28, 2018.
A news conference on five major China-ASEAN events was held in Nanning on March 28.
The five events are the 2018 Etiquette Oriental •14th China-ASEAN Etiquette Contest, Tea art Fairy Contest, Xiang Dao Cultural Contest, "Manner and Etiquette" photography contest, and the launch of the ASEAN etiquette network.
The etiquette competition has attracted tens of thousands of participants from China and ASEAN countries, with contests scheduled to be held in nearly 20 cities and 6 ASEAN countries.
The finals will be held in Nanning, Beijing, Hefei and Dalian. 
According to Pan Ling, chairman of the Guangxi etiquette association and executive chairman of the China-ASEAN Etiquette Competition Organizing Committee, the auditions will start in May.
The promotion of the national and provincial competitions and ASEAN countries will be completed by the end of August.
Three international competitions' finals will be held around mid-September.
This competition will also launch a series of large-scale related activities such as the Southeast Asian countries cultural and business trip, Hand in hand with 100 companies to donate children's etiquette series activities, Ritual culture into the campus, and the China-ASEAN urban civilization etiquette construction Development Forum and so on.
The second China-ASEAN Tea Fairy Competition will hold its final in June. The final of the first China-ASEAN Xiangdao Cultural Competition is scheduled to be held in Nanning in May.
And the first China-ASEAN "Ceremony and Style" Photo Contest will announce its results in October.
Contact us
Address:Asean-China Centre, No. 43, Liangmaqiao Road, Chaoyang District, Beijing, China
Postcode: 100600
Tel: 86-10-65321660 ext 636
Fax: 86-10-85322527
Weibo: weibo.com/aseanchinacentre