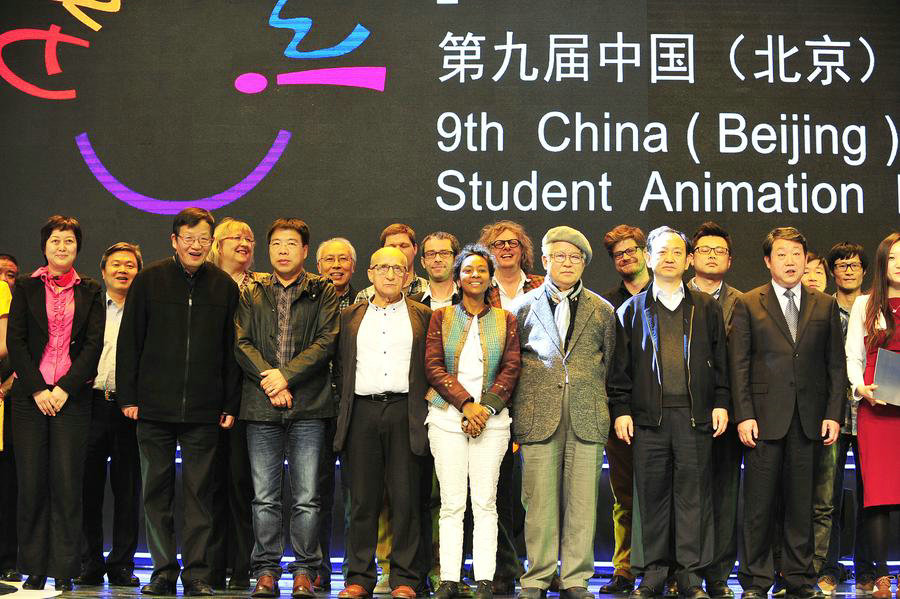 The award ceremony of Aniwow! 2014 held at Communication University of China (CUC) on Oct 27, 2014.[Photo/ Xinhua]
Aniwow! 2014, the 9th China International Student Animation Festival, held an awards ceremony on Oct 27 at Communication University of China (CUC), ending the five-day annual event in Beijing.
Co-organized by CUC and iQIYI and approved by the Ministry of Culture, Ministry of Education, and state administration of Press, Publication, Radio, Film and Television, the festival attracted more than 1,200 works from 30 countries and regions and featured 215 works at final round. Twelve international experts served on the jury and gave master classes, including Shelley Page from DreamWorks Studios.
The top prize, Best Animated Short Film Award, went to Higher Sky, produced by Chengteng from the University of Southern California, for featuring a special elegant Chinese style in character designing, background, movement and music. Chengteng, who graduated with a bachelor's degree from CUC, gave his special thanks to CUC through a video recording.
Fish, from The China Academy of Art, won the Best Directing Award. Hide and Seek, from the CUC, won the Best Screenplay Award.
An expert who attended the ceremony spoke highly of the works this year. She pointed that the students' works reached an outstanding level in artistic quality, philosophy and aesthetics, unlike the animations in the commercial market. The great difference between students' works and animations in the market is that some of the TV animations today only focus on quantity to get the government subsidy. The quality of students' works is much higher.
In recent years, several student stars of animation production have attended these kinds of animation competitions or festivals. The universities that organize these events deserve affirmation and praise since they contribute to the development of real Chinese animation.
However, after these student stars graduate from school, the problem they have to face is how to combine their animation dreams with the pressure of market demand.
We Recommend: