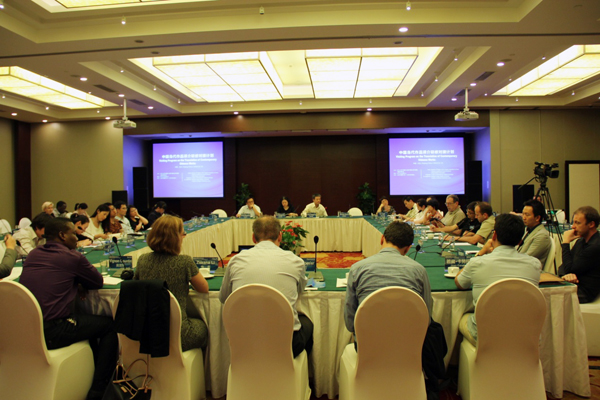 Translators meet the creators of the books they're working on in Beijing, Sep 18, 2014. Photo by Mei Jia/China Daily
When young writers meet young translators, literary sparks are ignited, which offers a visible promise for promoting Chinese works to a global audience.
Targeting younger generations of sinologists, the Ministry of Culture recently joined hands with the Chinese Academy of Social Sciences and the China Writers Association for the Visiting Program on the Translation of Contemporary Chinese Works. The 2014 program drew 24 sinologists, who're also translators of Chinese works, from different countries to Beijing.
As part of the program, an innovative "matching-making" effort was organized on Sept 18 to gather publishers, writers, translators and sponsors in a room for a whole day of discussion and exchanges.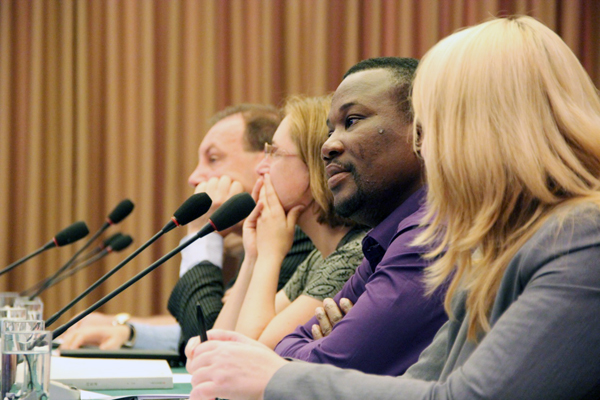 Young sinologists listen attentively to what contemporary writers of Chinese literature have to tell them in Beijing, Sept 18, 2014. Photo by Mei Jia/China Daily
It was a rare attempt to match the professionals, but the organizers said they believed the effort would shorten the distance between creators and producers of Chinese works, especially contemporary ones. And it also will add to the global appeal of Chinese works from an early stage.
We recommend: