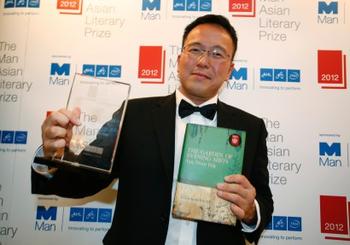 Tan Twan Eng was announced on Thursday night as the winner of the 2012 Man Asian Literary Prize with his novel "The Garden of Evening Mists".
Tan Twan Eng, the first Malaysian author to win the prize, won the 30,000 U.S. dollar award from a shortlist of five books spanning the whole Asian continent.
The Man Asian prize, launched in 2007, is awarded annually to an Asian writer for a novel published in the previous calendar year. This year is only the second time the prize has been won by a novel originally written in English. All previous winners, except "Ilustrado" by Miguel Syjuco (2008), won as English translations.
The winner, "The Garden of Evening Mists", revisits the traumatic aftermath of the Japanese occupation of Malaya, and the post-war insurgency against British rule.
Commenting on the novel, chair judge of the prize Maya Jaggi said, "The layering of historical periods is intricate, the descriptions of highland Malaysia are richly evocative, and the characterization is both dark and compelling. Guarding its mysteries until the very end, this is a novel of subtle power and redemptive grace."
Following the announcement of the 2012 winner, the current sponsor Man Group will relinquish its title sponsorship. A new title sponsor will finance the 2013 Asian Literary Prize. Negotiations with interested sponsors are currently ongoing.
Source:Xinhua
Editor:Jinxin