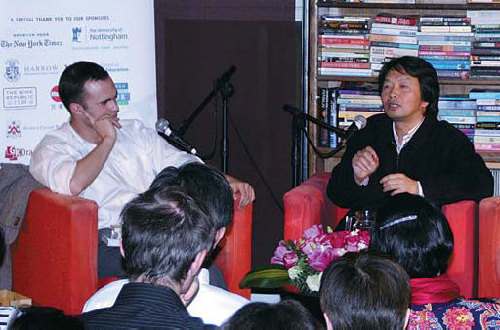 This year's Bookworm International Literary Festival features authors whose works focus on urban life, such as Liu Zhenyun (right). Provided to China Daily
Nobel laureate Mo Yan is not the only author in the country who deserves attention. The Bookworm International Literary Festival's organizer said there is much more about Chinese literature than the festival's 2009 speaker.
The two-week-long festival, which will close on Friday, was reaching out to new places, both figuratively and geographically.
It called attention to a lesser-known literary landscape: metropolitan China.
"Books about rural China and 'red' China are the most-read and best-known; even Mo Yan's works are in this category," said Vivian Wang, manager of the festival's Chinese program. "But China has so much more to offer."
To expand the picture, the festival featured a number of authors - either new or established - whose works focus on the country's urbanites.
Lu Nei, from Suzhou, Jiangsu province, wryly writes about the country's youth.
A Yi, a celebrated crime writer, shared insights with readers about his fast-paced thrillers, which are all set in towns and small cities.
Liu Zhenyun, a master of humor and satire, has written about how new technology enters into everyday life in Cell Phone, and the travails of migrant workers in I'm Liu Yuejin.
He's a literary heavyweight who sheds light on the social problems of modern, urban life.
Few of the enlisted Chinese writers are translated into English, but Wang said their engagement enables a better understanding of the Chinese literary scene.
Eighty authors from 18 countries came for the Bookworm's festival this year.
Together, they were chipping in thoughts on big questions like the importance of literature, the future of novels and the possibility of happiness.
Wang said the store's festival has always underlined and discussed crucial - and unsolvable - issues.
The festival went beyond the Bookworm's stores in Beijing, Suzhou and Chengdu. Targeting Chinese audiences, the BLF Caravan took panel discussions, readings, music and plays to Shanghai, Chongqing, Tianjin and Ningbo in Zhejiang province.
Lionel Shriver, author of the Orange Prize-winning We Need to Talk About Kevin, was in China for the first time.
"I don't know how my books are received here. I've never had a Chinese reader's letter before," said the author, who had a packed room for her Caravan event on March 10.
"That's why coming here is good for the author," she said. "Otherwise you don't hear anything about the book when it's in another language."
In her session, she discussed terrorism, writing techniques and culture shock with readers.
sunye@chinadaily.com.cn
By Sun Ye