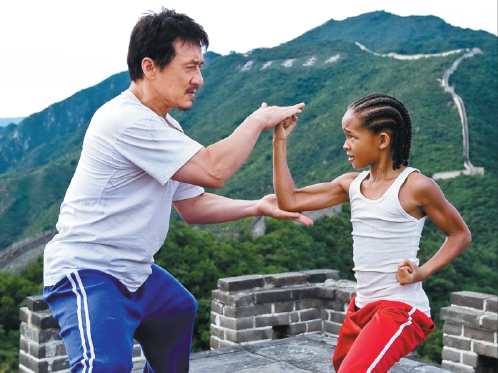 Jackie Chan plays a fighting master in both Chinese and Hollywood movies, such as The Karate Kid (2010) co-starring Jaden Smith.[CHINA DAILY]
Foreign audiences know very little about Chinese movies, except for the kung fu heroes, according to a recent survey. Xu Lin dissects the study.
When it comes to Chinese movies, foreign audiences know kung fu heroes, such as Jackie Chan, Bruce Lee and Jet Li. But that's about it, according to a report by the Academy for International Communication of Chinese Culture.
The academy unveiled its 2013 Research of International Communication of Chinese Film Culture in late February at a news conference at Beijing Normal University. The report aims to investigate foreign audiences' attitudes toward Chinese movies and culture. The quantitative study compiled 1,436 questionnaires from 99 countries.
"Action and kung fu movies play an important role in promoting Chinese culture. We should strengthen theory and technological innovation about them, with investment and policy to support their promotion overseas," says the academy's dean Huang Huilin, who initiated the annual project in 2011.
The research shows that the Chinese film market is still immature. Foreign audiences go for only Chinese action, kung fu, historical or war movies and comedies, and they are least interested in Chinese musicals and horror films.
About half of them favor action and kung fu movies because of the martial arts.
The research suggests that to draw more viewers, action and kung fu movies have to innovate kung fu effects and demonstrate Chinese characteristics in the plot.
The last part of the questionnaire requires respondents to write down a key word related to Chinese movies. Jackie Chan tops the list with 322 mentions, followed by Bruce Lee (106) and Jet Li (95).
But Chinese kung fu movies are not always about these famous kung fu stars. The Grandmaster, the 2013 directorial martial arts movie of Wong Kar-wai, was nominated for Best Cinematography and Best Costume Design at this year's Academy Awards. None of the three actors were in the movie.
According to Zhang Bai-qing, director of the China Film Critics Society, besides Chinese action and kung fu films, Chinese art-house movies are also influential overseas because they win awards at international film festivals. But mainstream audiences are not so familiar with them.
In February, Chinese actor Liao Fan won the Silver Bear for Best Actor for the Chinese movie Black Coal, Thin Ice, which also won the Golden Bear for Best Film.