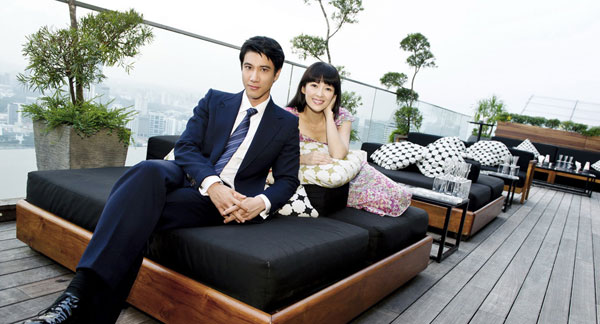 A scene from My Lucky Star, a Chinese-language film made by American director Dennie Gordon. (Provided to China Daily)
American director Dennie Gordon has done something so unusual that her 24-year-old son calls her a "crazy dame".
The 50-year-old is the first female director from the United States to make a Chinese-language film. She has teamed up with Zhang Ziyi, star of Crouching Tiger, Hidden Dragon, to make My Lucky Star, a romantic-comedy set to premiere in China on Sept 17.
Gordon directed episodes of TV comedies 30 Rock and The Office and feature films including What a Girl Wants and Joe Dirt before meeting Song Ge, a producer of Zhang's 2009 film, Sophie's Revenge.
They talked about making a film in China, the fastest-growing film market in the world. Zhang joined the project later.
"My son is also a filmmaker and he said to me, you are one crazy dame," she laughs.
"But I love crazy challenges and everybody wants to know what the Chinese market is really like. There is this huge audience here and at the same time, it is so unpredictable and incredibly powerful."
The film follows Sophie, an audacious Beijing girl, as she travels to Hong Kong, Macao and Singapore, where she becomes involved in a weapons deal and romance with a handsome government agent played by Taiwan singer Leehom Wang.
The script was written in English and translated into Chinese, with two Chinese writers and Gordon and Zhang in cooperation.
Gordon is confident the film will resonate with young Chinese women, her target audience.
"China is in exciting development stage and women are much freer to make their own choices," she says.
"The message of Sophie's journey is, don't just live inside your head, go and take the risk. You can go to Singapore alone, you can meet the man of your dreams and you can have an adventure. I want all Chinese women to feel free to do that."
The film was shot in Chinese, while Gordon worked with an assistant who helped her with language. But she does not think language was a real barrier on set. "In many ways drama and romance are international languages," she says. "I was really able to tell, 'Do I believe this moment? Is there something in this moment that makes my heart tug?' I knew what they were saying at every instant because I developed the script."
Gordon plans to make more Chinese projects in the booming market, where she says she has an unusual amount of creative freedom.