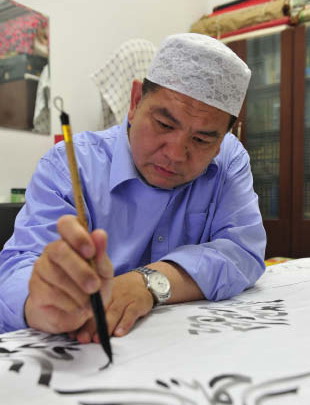 Li Shouwei
His morning devotions completed, imam Li Shouwei leaves the mosque on Niujie Street, and walks to the Houheyan Mosque construction site on an alley off Beijing's Guangnei Street. Few residents of the thriving capital give a thought to the building beneath the scaffolding. To Li Shouwei it embodies a dream 15 years in the making that is about to come true.
One of Beijing's 70 or more places of Muslim worship, Houheyan Mosque is less than two kilometers north of the famous Niujie Mosque. Buried as it is in a densely residential area, few people other than local Muslims are aware of its existence.
Li Shouwei, now 45, was formerly imam of the well-known Niujie Mosque. He applied for a transfer to the Houheyan Mosque, a small ramshackle building with a handful of worshipers, in 1998.
"As Houheyan Mosque is situated on low ground, during high summer when Beijing's rainfall is highest, garbage would flow into the yard, making it dirty and smelly. Rainwater also leaked into the Sermon Hall, seriously disturbing the worship of local Muslims," Li Shouwei said.
Absence of funds made remedying the situation difficult. Reliant on occasional donations, Li Shouwei and Tie Guanghui, director of the Houheyan Mosque Management Committee, were only able to carry out repairs now and then. "We never expected to make the mosque magnificent, only to keep it clean and so maintain its dignity. Donations from the local neighborhood were so few that refurbishing it seemed an impossible dream. The complicated administrative procedures entailed in getting government approval and financial support to renovate an urban, as compared to rural, mosque made it seem even more out of reach. But despite these difficulties we persisted in efforts to make our dream come true," Li Shouwei said.
Finally, in 2007, the district government allocated RMB 1.2 million to refurbishing the Houheyan Mosque. After discussions with the mosque's management committee, Li Shouwei and its members decided to proceed step by step, the first phase being the washroom. "Although RMB 1.2 million is no small amount, it was not enough to renovate the main worship hall. If we had decentralized use of the money we might not have been able to achieve obvious improvements, so we decided instead to spend it all on the washroom," Li explained. This is important, as Muslims perform a ritual cleansing of hands and feet before worshiping. Since renovations were completed, the spacious washroom with modern facilities has drawn more Muslims to make their devotions. The dream of renovating Houheyan Mosque has thus been partly realized.
In 2012, through joint efforts, the district government allocated RMB 8 million to the second phase of refurbishments. August of that year saw the launch of improvements to the main worship hall and its affiliated buildings. "On the day the project began and the old parts of the mosque were torn down, I and many other Muslims shed tears of joy as we saw our dream finally about to come true. Non-Muslims living in the neighborhood also came to express their congratulations," Li said.
"As imam of Houheyan Mosque, I, together with its management committee members and parishioners, have seen this mosque through good and bad days over the past 15 years. As the Koran says, indeed, with hardship comes ease. I thank Allah for endowing us with an age of prosperity and favor, and pray for rewards to those who have contributed to refurbishments. When complete, we all expect the mosque to play a greater role in Muslims' religious activities and so make the efforts of the government and relevant departments worthwhile," Li said.
We recommend: