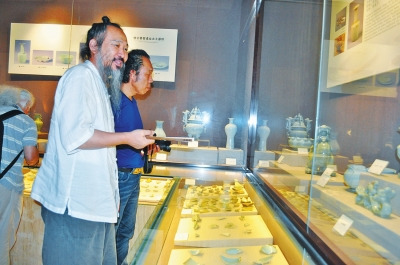 Ceramic artists from around the world admire different stages of work in the Ru Porcelain Museum, in Ruzhou, Henan province, on Aug 26. [Photo by Wang Guofeng/dahe.cn]
The International Ceramic Arts Exhibition, named Oriental Charm, has been held in central China's Henan province since Aug 23.
After the opening ceremony in Henan's Ceramics Museum in Zhengzhou, capital of the province, there are many other activities displaying the charm of Chinese ceramic and porcelain arts; for example, a summit of international ceramic arts exchange, artists' craftsmanship forum, and a series of visits to famous porcelain capitals in China, including Ruzhou city in Henan.
Wang Aichun, president of the ceramic association in the province, guided a group of top ceramic artists to Ru Porcelain Museum, and local porcelain workshops in Ruzhou.
Ru porcelains have attracted a huge amount of attention at the exhibition, arousing people's interests in the ancient city. A visit to Ruzhou was highly acclaimed when Wang brought up the idea. Besides Ru Porcelain Museum and some ceramic workshops, they also visited many historical sites in the city, such as old temples, bell towers and some ancient architecture.
The international exhibition has 320 ceramic works, from 77 artists in 12 countries. It added new works of foreign artists from the US, the UK, Canada, Belgium, Lithuania, Spain, Germany and Italy, compared to a usual list containing South Korea, Japan, the mainland of China and Taiwan region.
We recommend: