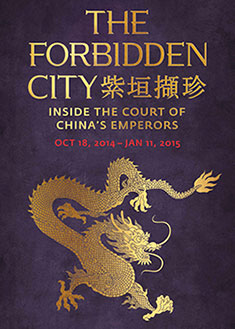 The exhibition, The Forbidden City: Inside the Court of China's Emperors was held at the Vancouver Art Gallery on Oct 18. The exhibition will run for three months. More than 200 treasures from the Palace Museum in Beijing will on display, of which nearly 30 are first-class national relics and 80 have never been seen outside China.
The exhibition presents treasures such as paintings, ceramics, gold and silver, a model of the Forbidden City, traditional instruments and historic photos. They showcase Chinese cultural history dating back to the reigns of the Emperor Yongzheng, the Emperor Qianlong and the Dowager Empress Cixi.
The curator of the Vancouver Art Gallery said that the exhibition pieces are precious. He said he hopes this exhibition will help the Canadian people to know more about the life of the court in the Ming and Qing dynasties and traditional Chinese culture and promote exchanges between the two peoples.
Before the Vancouver Art Gallery hosted the exhibition, it was held at the Royal Ontario Museum in Toronto for three months and was popular among locals.
We Recommend:
| | | |
| --- | --- | --- |
| | |   |
| Chinese cultural relics lost overseas  | Tang Dynasty poems adapted into short films  | Photo Beijing 2014 kicked off  |