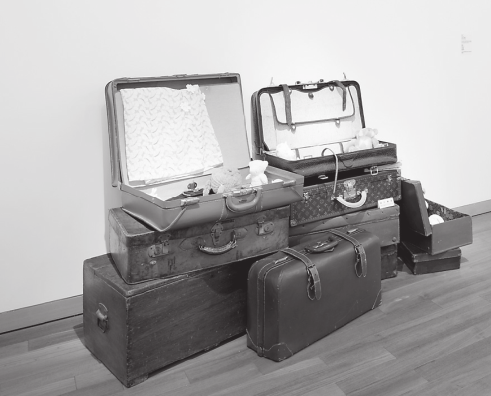 CHINA DAILY
Espace Louis Vuitton provide platforms for local artists. The latest show, Time Traveler, features two women artists.
Louis Vuitton is one of the most recognizable luxury brands in China. Its trademark LV logo stamped on countless handbags can be seen on the arm of many fashionable women across the country. What began as a French manufacturer of stackable trunks in the 1860s has grown into today's most iconic status symbol seen all over the world.
At the same time, Louis Vuitton has long been a proud supporter of the arts. Its standalone boutiques in Paris, Venice, Tokyo, Taipei, Singapore and Hong Kong each contain designated galleries within them. Dubbed Espace Louis Vuitton, the spaces provide platforms for local artists to showcase their work within venues frequented by customers who appreciate fine design and craftsmanship.
For Time Traveler, the current exhibition at Louis Vuitton Canton Road in Hong Kong, Vita Wong-Kwok, Louis Vuitton Asia's vice-president of cultural development, worked with sculptor Sara Tse and mixed media artist Au Hoi-lam for six months. The artists had exhibited together at Hong Kong's Osage Gallery in 2011, another venue known for promoting local talent. "We particularly wanted an exhibition with young female artists, following our previous show of works by male artists," she says.
Time Traveler is loosely predicated upon Louis Vuitton's origins of providing trunks for adventure seekers crossing oceans on steamers. The concept was fully embraced by the artists and interpreted through completely different creative vocabularies that nevertheless resulted in works that form a pleasant tension when viewed together. Playful, vibrant and with a domestic sensibility, the works exhibit contemporary femininity while being accessible to a wide audience.
Tse studied fine arts at the Chinese University of Hong Kong and the Royal Melbourne Institute of Technology University. She has exhibited in solo and group exhibitions across greater China and Australia.
For Time Traveler, she placed a number of her fragile white ceramic casts of old objects around props she found through a friend's family home.
"They were selling off their furniture," Tse recalls. "Old items such as an antique Singer sewing machine, wooden rocking chair and vanity table with beveled mirror. I imagined the stories behind these items."
She created various scenarios placing her ceramic pieces around the furniture and accessories to evoke a nostalgic portrait of the past. Teddy bears, nightgowns, lace valentine from the 1950s and notepads were all fired, transforming their forms into hard and solid objects yet deceptively retaining their fragile appearance.
"The trunks and teddy bears were from my own personal collection," Tse says. "The towel bear was made from a friend's towel that was used like a security blanket. It was completely immersed in that person's scent."
Au studied fine arts and philosophy at the Chinese University of Hong Kong. She has participated in group and solo exhibitions across China as well as in South Korea and Italy.
She bookended her works with two photographs that she took of the forests around her home in Tai Mo Shan that are placed opposite antique mirrors that reflect and expand the images. "I live in a village house and it was the first time I used the countryside around my home as a subject for my art," she says.
A series of acrylic landscape paintings follow, dreamy and pastoral yet depicting a clock face with no hands and distorted numbers to play upon the time traveler concept. Au then uses a mattress as a canvas, with four pieces representing the four seasons.
"The strings, fabrics and pins I used for each piece all relate to the season," Au explains.
"Spring includes yellow and pale green leaves, while summer has more flowers and brighter colors. A mattress is a great canvas. It is soft and things can easily be moved or changed on it. It's a welcoming and comforting background."
"The space in Hong Kong is different from Paris or Tokyo," says Wong-Kwok, explaining that each exhibition is curated independently and tends to be unique to each site. "Omotesando's gallery is on one floor and surrounded by glass, which makes it better for installations as there are few walls for hanging."
IF YOU GO
Espace Louis Vuitton Hong Kong, Louis Vuitton Maison, 5 Canton Road, Tsim Sha Tsui.
10 am-10 pm daily, until April 30.
852-8100-1182.
We recommend: