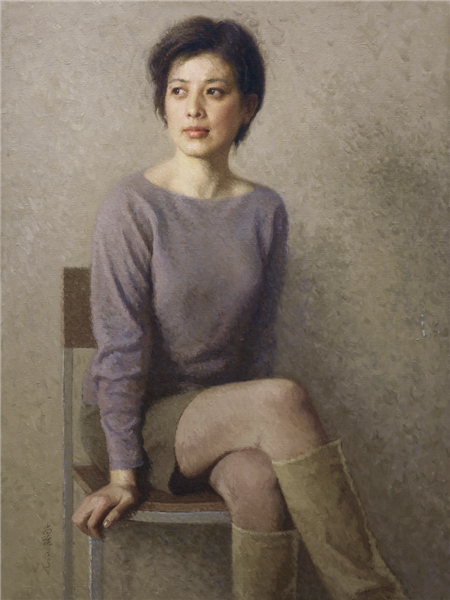 Portrait of a Friend, by Jin Shangyi. Photos provided to China Daily
An exhibition titled The Imprints of Times, which ended on Thursday, featured works of more than 50 well-known Chinese oil painters of different generations.
Beijing Service Bureau for Diplomatic Missions and the Dadu Museum of Art organized the show for diplomats in Beijing. It aimed to give these diplomats the big picture of the development of oil painting in China.
"We have tried to select typical oil paintings of different time periods, from the beginning of the 20th century to today. Each painting has its own style," says Jin Shangyi, director of the Dadu Museum of Art.
Jin, who painted the portrait of the first lady of China Peng Liyuan when she was a young singer in 1984, had four of his portraits on display, including The Woman Nude in Meditation painted in 2002 and The Uygur Girl in Flower Skirt drawn in 1981.
The show featured about 60 works from many big names in Chinese contemporary oil painting, such as Jiang Dahai, Zhou Chunya, Liu Xiao-dong and Chen Danqing. It covered realism, abstract performance and many other painting styles.
Oil painting was introduced to China in the early 20th century. Before New China was founded in 1949, few people in the country had the chance to learn oil painting.