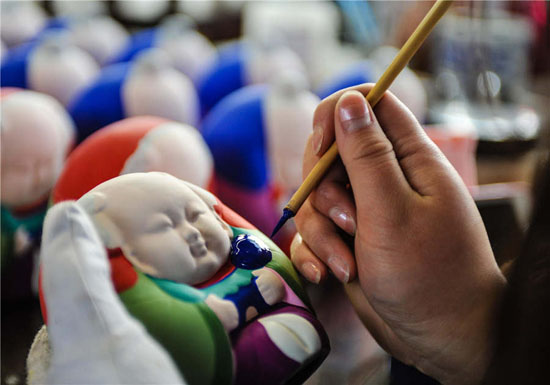 Li Miaojun, a clay figurine artist in Huishan, Wuxi city, paints a figurine. [Photo/Xinhua]
Listed as part of China's intangible cultural heritage since 2006, Huishan clay figurines are probably one of the most commercialized types of intangible cultural heritage. For visitors traveling to Wuxi, a hot vacation spot in Eastern China's Jiangsu province, nine out of 10 will make sure to make a stop at the city's Huishan district to buy a couple of these cute local traditional clay figurines.
While many may still stick to the conventional concept that commercialized objects can never be true art, these clay figurines show the opposite to be true. The high commercialization of these figures not only underscores these artworks' popularity among visitors, it also protects this ancient cultural heritage from withering and dying, a danger that many other intangible heritages in the country are facing.
Commercialized artwork
Dating back to the Northern and Southern Dynasties (386-589) period, the art of making Huishan clay figurines has been developing and evolving for more than 1,000 years. While the Ming Dynasty (1368-1644) is considered a prime period for the art's development, in the Qing Dynasty (1644-1911) professional handicraft workshops began to appear. These shops can still be seen sitting row after row along the streets of Huishan.
Of course the figurines themselves aren't just limited to the Huishan disctrict, visitors can see them at boutiques or big stores at almost every sightseeing spot in Wuxi. Smiling while holding either peaches or a shoe-shaped gold ingot (both auspicious signs in traditional Chinese culture), dozens or even hundreds of A Fu (the chubby little boys that are the most popular image used in clay figurines) sit side by side on the store counter. Ranging from dozens to hundreds of yuan, many of them end up being bought and taken to different places around the country or even the world.
"Some foreign visitors prefer figurines without any color, just plain clay," said Wang Mudong, the former president of the Huishan Clay Figurine Research Institute. "Our understanding is that they come here to experience real local culture, and that clay is the core [of this culture]."
Smooth and soft, the clay in Huishan has distinctive characteristics. Not easily broken or separated, local clay is perfectly suited to be molded by hand. "Looked at as a work of art, the spirit of a clay figurine is the most important part, since it can invoke different emotions in whoever buys it," said Wang.
Huishan figurines count among the collections of museums throughout China. Whether it's the National Art Museum of China or local museums in Wuxi, people can see many different types of Huishan clay figurines on display.
We Recommend: