Descendants of ancient Chinese artist display work in Tokyo
Updated: 2020-08-17 11:31
(Chinaculture.org)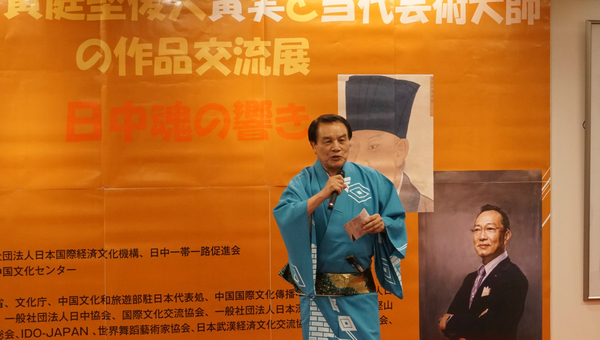 A Japanese singer performs at the opening ceremony of the exhibition on art works by Huang Shi and descendants of ancient Chinese calligrapher Huang Tingjian at the China Cultural Center in Tokyo, Aug 12, 2020. [Photo provided to Chinaculture.org]
Huang Tingjian, a Chinese calligrapher, poet and painter from the Northern Song Dynasty (960-1127), would be proud to learn his descendants are still practicing the craft in the 21st century. One of them, Huang Shi, has become famous in his own right for ink painting.
Works by Huang and other descendants of the ancient artist have been on display in Tokyo since Aug 12.
Officials and representatives from the Chinese and Japanese government and cultural institutions attended the opening ceremony of the exhibition at the China Cultural Center in Tokyo.
Shinpei Matsushita, member of the House of Councilors in the Diet, addressed the ceremony.
"As the COVID-19 pandemic is still prevailing around the world, we expect the event could encourage the two nations to stay sanguine during the epidemic," he said.
At the exhibition, Banri Kaieda, member of the House of Representatives, congratulated the artists. As someone who has studied traditional Chinese culture for years, Kaieda hoped cultural exchanges between China and Japan could be further strengthened in the future.
Both Chinese and Japanese artists gave a series of performances at the ceremony, including erhu playing and martial arts.
Running through Aug 21, the exhibition also features pieces by well-known artists from both countries.