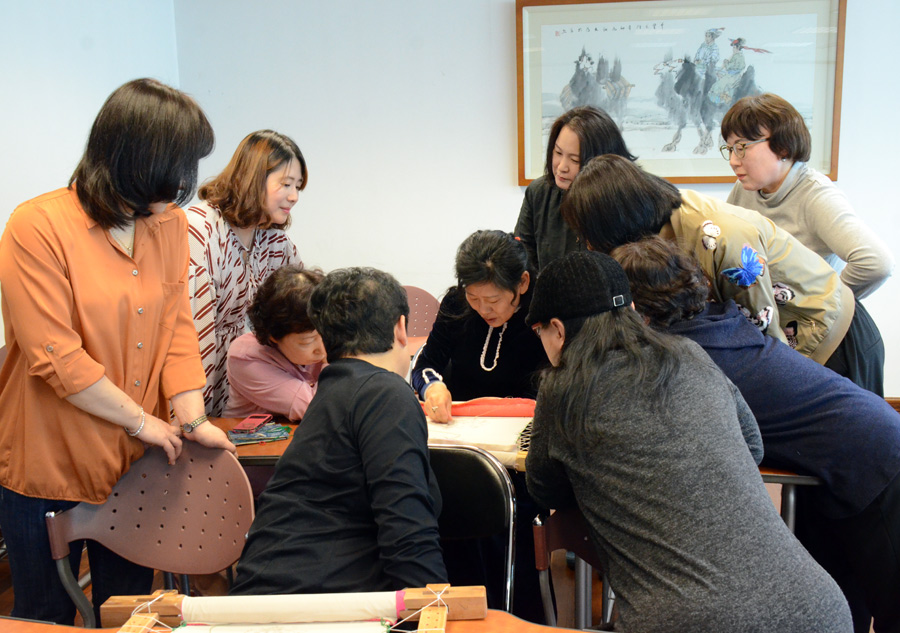 Teacher Liu Xiaohong introduces Chinese embroidery to students. [Photo provided to Chinaculture.org]
A five-day Daye Embroidery experiential training course successfully concluded at China Cultural Center in Seoul, South Korea, on April 29, 2016. Conducted by Liu Xiaohong, an inheritor of Daye Embroidery from Hubei province, students were taught basic skills of embroidery.
"Learning embroidery is really fun," said students from the training course. "We hope there will be more classes."
According to Sun Yan, the deputy director of China Cultural Center in Seoul, they will hold more cultural events and courses in the future.
Chinese embroidery has thousands years of history. The items embroidered are quite diverse and include robes, theatrical costumes, purses, shoes, spectacle cases, banners, alter cloths and many other pieces. Embroidery was also used as a means of decorating silk clothing and for silk flags and banners as a means of denoting rank or station.