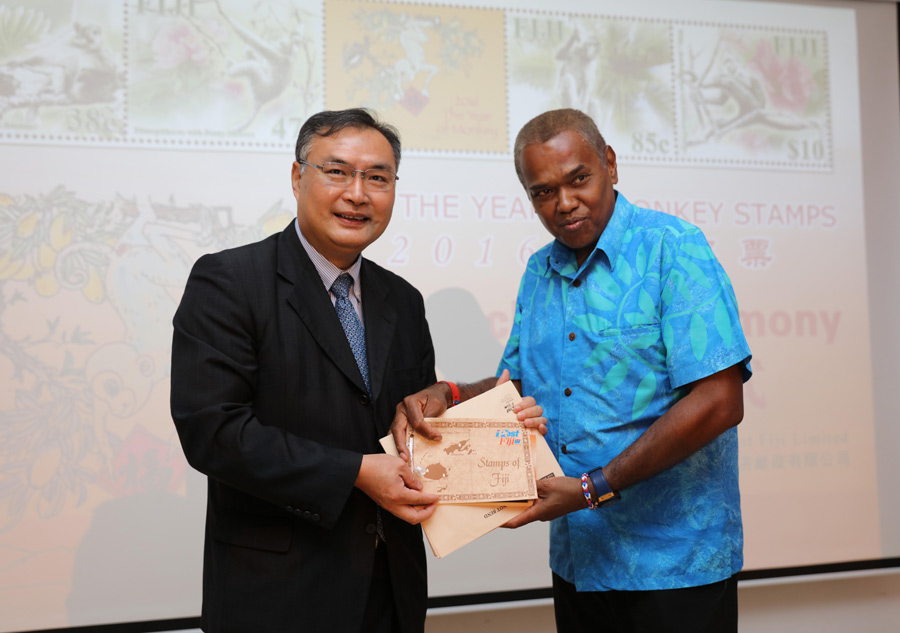 Chinese Ambassador to Fiji Zhang Ping (L) and Post Fiji Limited Chairman Lawrence Tikaram showcase monkey-themed stamps and a first day cover at the Suva-based China Cultural Center in Fiji, May 4, 2016. In association with the Chinese embassy in Fiji and the China Cultural Center in Fiji, Post Fiji Limited launched its monkey-themed stamps and first day cover on May 4. [Photo provided to Chinaculture.org]
The Lunar New Year monkey stamps were released on March 30, but the official launch was deferred due to all stakeholders' commitment to business and economic restoration after Tropical Cyclone Winston ravaged Fiji, according to Post Fiji Limited Chairman Lawrence Tikaram.
The launch marks the combination of two nations coming together, and shows the friendship and deep bond that exist among Fijians and Chinese, he said.
"Post Fiji's lunching of the Lunar stamps signifies that friendship and brilliant thing that has come about through the Year of the Monkey. And we launch the stamps with great and humble gratitude to the people of China and the people of China's origin in Fiji to mark the friendship," Tikaram told Xinhua.
The monkey stamps have set a good example of cultural exchanges and cooperation between China and Fiji, said China Cultural Center in Fiji Director Deng Xianfu.
"The China Cultural Center in Fiji will make every effort in promoting the long-term cultural exchange and cooperation, and will explore more channels for and provide support to the cultural exchange and cooperation between the two countries," said Deng.