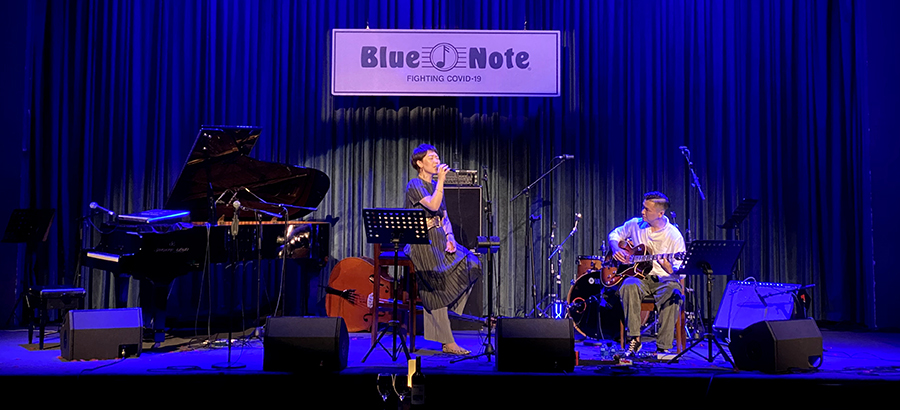 Performers take to the stage as Blue Note Beijing reopens. [Photo/China Daily]
Event at Olympic venue marks return of live performances
Fans are poised to head to an outdoor music festival being staged at a venue for the 2022 Winter Olympics, marking the return of live performances for the first time since the onset of the COVID-19 pandemic.
Some of the country's top rock bands will share stages on Saturday and Sunday at the Midi Music Festival in Chongli district, Zhangjiakou, Hebei province.
Shan Wei, the event's director, said, "It will be our first outdoor music festival this year and we can't wait."
All such events arranged for the first half of this year had to be called off or postponed due to the pandemic, leading to significant financial losses.
The lineup for the weekend festival includes leading rock bands Miserable Faith and Hedgehog, and young indie acts such as Jiulian Zhenren.
Known as "China's Woodstock", a reference to an acclaimed United States rock festival in 1969, the Midi Music Festival, which celebrates its 20th anniversary this year, has propelled many domestic indie rock outfits to fame.
Chongli, Hebei province, about 220 kilometers from Beijing, was chosen to host the first major outdoor Midi Music Festival, as the location is a popular ski resort covering some 40,000 square meters. It is also surrounded by mountains, which keep the summer heat way.
With fans' safety the top priority for the organizers, capacity is limited to 5,000 each day. Safe social distancing must be maintained and fans can only buy tickets by making advance online reservations with their ID cards. Temperature checks will be carried out before fans are admitted and they must also show "green" QR codes on their phones to gain entry.
Shan said, "We usually have about 20,000 to 30,000 fans each day for our music festivals, which are often held over three days, including weekends, but in putting together the event in Chongli, we have taken great care to make sure everyone is safe."
About 20 bands will perform at the festival on two stages, with the organizers aiming to avoid any large crowds forming. Activities such as camping and outdoor sports will also be available.
Tickets, which went on sale on July 25, sold out within 30 minutes.