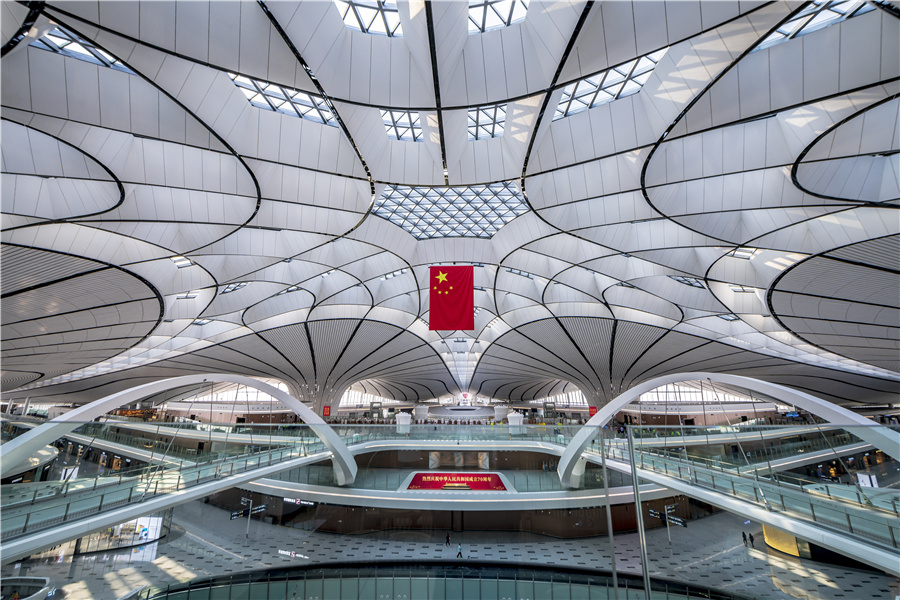 Interior of the Beijing Daxing International Airport. [Photo provided to Chinaculture.org]
Beijing Daxing International Airport (PKX), located on the border of Beijing and Langfang, North China's Hebei province, is the biggest airport in the world. Nicknamed "starfish", the terminal building is one of the largest single-structure airport terminals in the world, with an area of more than 700,000 square meters.
It is an exciting collaboration between ADP Ingeniérie (ADPI) and the architecture team of late Zaha Hadid. It was completed last June. Now many visitors take a daily trip here to appreciate the architecture.
With an online photo exhibition, the impressive design of this newly built Beijing landmark is able to reach South Korea. Featuring more than 50 images, the event is accessible through Facebook, Instagram and YouTube.
The new mega-airport hub is expected to handle up to 45 million passengers per year by 2021 and reach 100 million in the future.