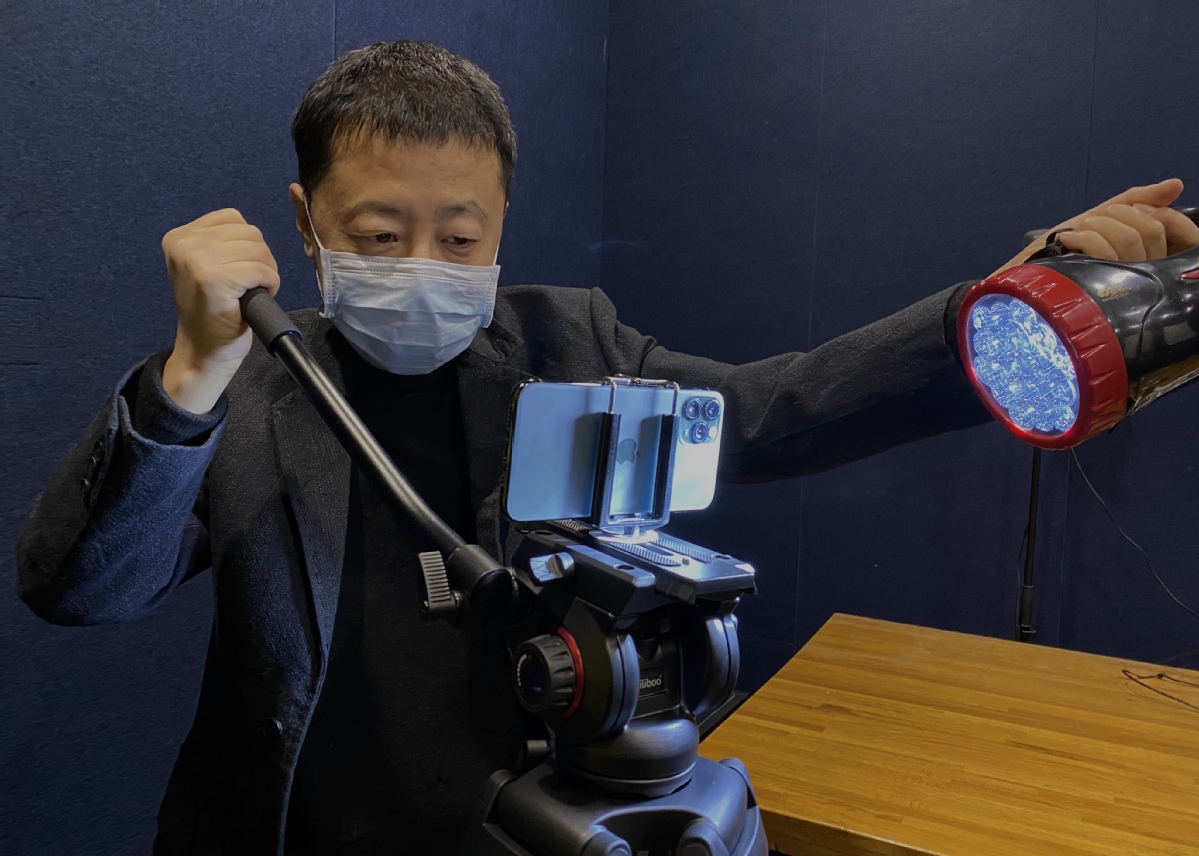 Film director Jia Zhangke uses a smartphone to shoot Visit, a threeminute short movie, in his office. CHINA DAILY
Silver screen reset
From the 100-plus day closure of nearly 70,000 screens nationwide, China's film and TV industry has seen blockbusters withdrawn and shooting suspended.
The China Film Administration estimates that box offices will face a loss of more than 30 billion yuan ($4.2 billion) this year, nearly half last year's total take.
But China-the second-largest market in terms of annual box-office revenue-is seeing signs of recovery, as noted by some industry insiders attending the two sessions.
Film director Jia Zhangke, a deputy to the 13th National People's Congress from Shanxi province, has a positive take on the suspension of business.
"China's film industry had maintained a high annual growth rate for many years, drawing floods of hot money but also creating a waste of resources," he said.
In recent years, China produced over 1,000 feature-length films annually, but most couldn't be screened in theaters due to fierce competition, he added. He predicted that the suspension will "squeeze out bubbles and shift the filmmakers' pursuit of quantity to quality".
Jia is one of China's most acclaimed directors internationally, particularly for Still Life, which won the Golden Lion at the 2006 Venice Film Festival. He said the pandemic has provided inspiration.
In March, he was invited to join six other directors to make short films for a project at the Thessaloniki International Film Festival in Greece, held online last month.
Seeing the project as a way to support fellow filmmakers amid the pandemic, Jia used a smartphone to shoot Visit, a three-minute short, in just one day. It has just three actors-Jia and two friends.
" (In the film), you'll see how social etiquette like shaking hands, easygoing atmospheres and getting along with acquaintances have been forced to change," he said.
"But the film ends with on a hopeful note, reflecting the fact that I really miss the days when people got together."
Speaking about the Pingyao International Film Festival in Shanxi, scheduled for Oct 10 to 19, Jia-the organizer-said his team has started preparing a video connection plan with foreign filmmakers in case the outbreak has not been globally contained by then.