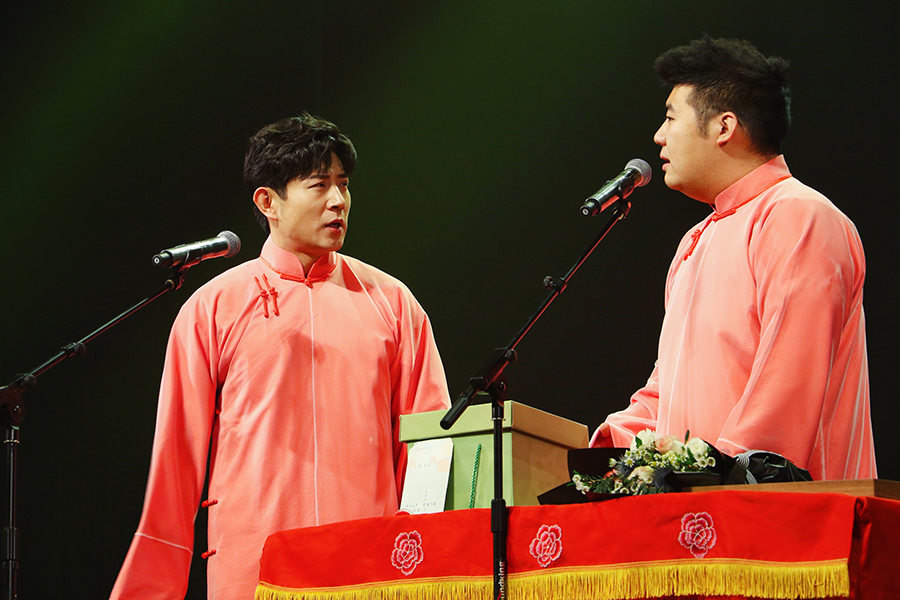 Gao Xiaopan, left, founder of the Hip-hop Crosstalk Club, performs xiangsheng in Beijing before the pandemic. [Photo/China Daily]
Audiences warm to online shows as venues remain closed
Imagine owning a small theater in downtown Beijing staging xiangsheng, or crosstalk, shows-the most popular comedy performance genre in China. The venue attracts audiences of about 200 every night during the week, and more on the weekends.
More than 100 performers are on the books, and you are making a profit thanks to loyal audiences and xiangsheng fans, who see the theater as a place for fun, relaxation and a chance to meet friends.
Then the novel coronavirus pandemic arrives. Suddenly, your business-and many others like it-has to close to help contain the virus. Even if it could stay open, people self-quarantining at home and practicing social distancing are not going to the theater.
This situation confronted Gao Xiaopan, the owner of a small theater in Beijing and founder of the Hiphop Crosstalk Club in the capital. The xiangsheng performer, who has been practicing the art since he was 8, eventually decided to close the theater.
On April 19, Gao bid farewell to the venue, which he founded at the end of 2013. He shared a photo on his Sina Weibo account, which has more than 2 million followers, of himself sitting on the stage.
The theater is situated in Jiaodaokou-a populous hutong, or alleyway, area near the Gulou, or Drum Tower and Nanluoguxiang, both popular tourist attractions.
"I was depressed when all the shows were canceled due to the viral outbreak. However, I didn't expect the situation to worsen," Gao, 35, said.
He added that the last show his troupe staged was at the Minzu Theater in Beijing on Jan 18, which attracted an audience of more than 1,000. Performances were planned for after Lunar New Year's Eve, which fell on Jan 24.
Gao said he has asked himself several crucial questions in recent weeks, such as what will happen to his business and colleagues? Will they be able to pay their rent? Will the theater business survive the impact of the virus?