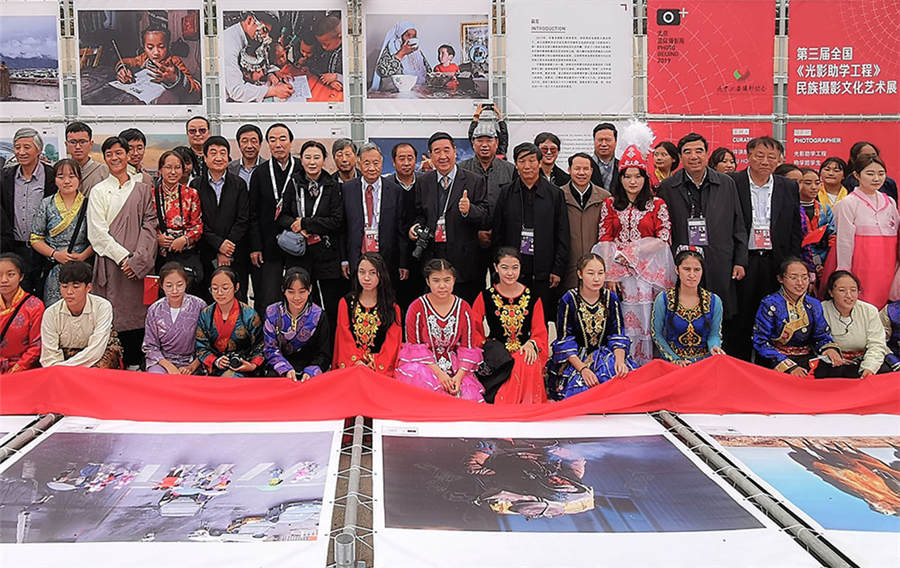 Participants pose for a photo during the third Photography Education Program Ethnic Minority Photography Exhibition in Beijing, Oct 19, 2019. [Photo provided to chinadaily.com.cn]
Xu Hongxu, the initiator of the National Photography Education Program, donated cameras, projectors and computers to schools involved in the program, held many photography exhibitions and published many photo albums for students over the past three years.
Wei Guoyan, a student from the Shui nationality, whose photographic work won the silver award at the Silk Road Youth International Photography Competition, said that she first encountered photography three years ago when the National Photography Education Program team came to her hometown. Since then, she has enjoyed photography.
"The world is not lacking in beauty, but lacks the eyes to discover beauty. It is photography that reminds me of the beauty of the world. It is the National Photography Education Program that leads me to success," she said,
The exhibition is sponsored by the China Culture Promotion Association and People's Photography Newspaper.