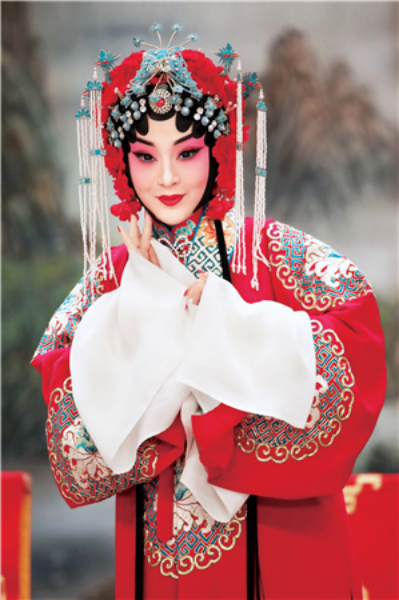 Jiang Yishan [Photo/Women of China]
Peking opera artist Jiang Yishan won the Plum Performance Award (in 2013), China Gold Record Award (in 2013) and Best Protagonist Award during the 21st Shanghai Magnolia Drama Festival (in 2011). She has been promoting the traditional Chinese art form among younger generations in China in recent years. "To inherit Peking opera, we should not only learn from our predecessors, we should also teach the next generation the traditional art form. Only when the younger generation loves Peking opera, will the art form truly have vitality," she says.
As a national, first-class actress with Jingju Theatre Company of Beijing, Jiang has created vivid images of many qingyi roles (female roles of young or middle-aged women with gentle and refined dispositions in Peking opera) throughout her career.
She was taught by Xue Yaping, a representative figure of Zhang Junqiu (1920-1997) School of Peking Opera. She was also taught by Mei Baojiu (1934-2016), son of Peking opera master Mei Lanfang (1894-1961).
Good Start
Jiang was born in Shenyang, in Northeast China's Liaoning Province, in 1978. Her parents are fans of Peking opera. Jiang is always happy when she talks about her parents. "I could not have become who I am today without my parents' support. I appreciate that I was born with a good body and a good voice. In the 1980s, not so many children learned Peking opera. But my parents allowed me to study at an opera school," she says.
"I am impressed by the courage of my parents, and by their faith in Peking opera. They are always my strong backup," she adds. As she lived in a favorable family environment, Jiang developed a stable personality and a solid work ethic.
"The weather in Shenyang was really cold in winter. As the condition of our school was not good at that time, we had to practice singing in front of a wall. We could have a break when the frost on the wall was gone due to the breath coming out of our mouths," she recalls.