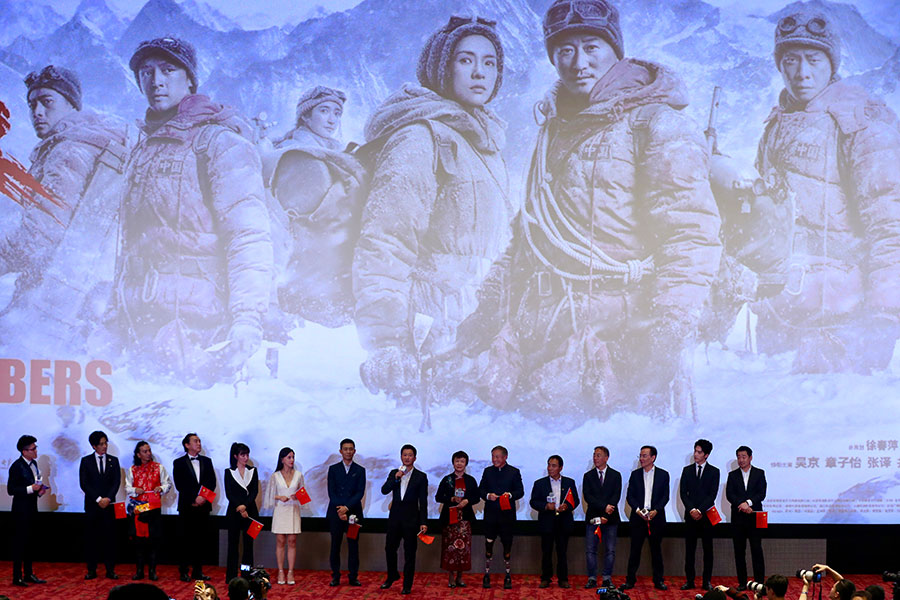 Leading cast members of The Climbers at a cinema in Shanghai on Friday night to celebrate the debut of the highly anticipated blockbuster, which is due to hit screens nationwide on Monday.[Photo by Zhu Xingxin/chinadaily.com.cn]
Applause, followed by exclamations of "We are all climbers!" exploded at the end of a sneak preview of "The Climbers" in Shanghai on Friday night, which was followed with the film's global launch ceremony when crew members of the highly expected Chinese blockbuster showed on stage for a face-to-face exchange with the audience.
The mega-production produced by the Shanghai Film Group Corp, which features two generations of Chinese mountaineers who scaled Mount Qomolangma from the perilous north side in 1960 and 1975, pays tribute to the 70th anniversary of the founding of the People's Republic of China.
It is due to hit the screens in cinemas across the Chinese mainland, in North America and the United Kingdom, on Sept 30.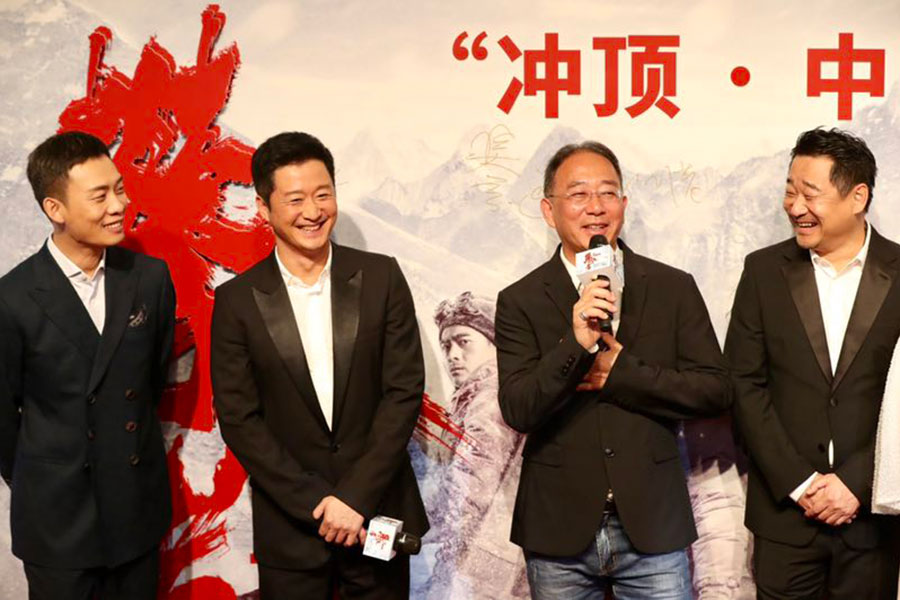 Producer Ren Zhonglun (second from right) and leading actors Wu Jing(third from right), Zhang Yi (left) and Wang Jingchun attended the celebrations. [Photo by Zhu Xingxin/chinadaily.com.cn]
The film, which took around 14 months to make, features an A-list cast including Wu Jing, who is known for his role in Wolf Warrior and The Wandering Earth, Zhang Ziyi, Zhang Yi, Jackie Chan and Wang Jingchun.
More than 2,000 spectacular special effects shots by veteran international visual artists have also been included to best present the Chinese team's expedition in tackling the world's highest peak, according to Ren Zhonglun, chairman of the Shanghai Film Group Corp.
"In the movie there are many moments when I felt like crying but we're somewhat stopped," said Wu. "We resonate with The Climbers because each one of us is a climber in life."
Expectation has run high in recent weeks for The Climbers to be another Chinese box office sensation after Wolf Warrior and The Wandering Earth.
The film's box office presale exceeded 100 million as of 9 pm, Sept 27, according to statistics from Maoyan Entertainment.