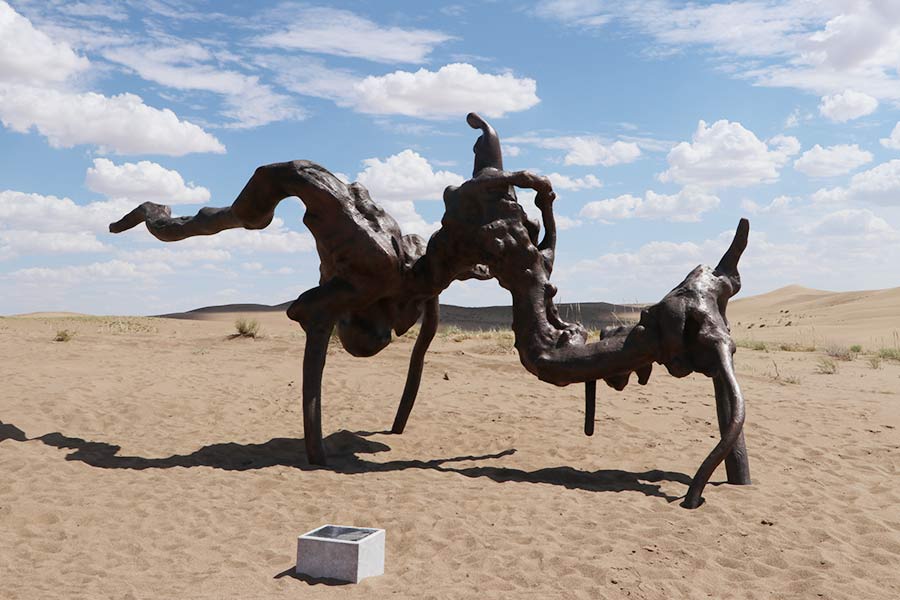 The 2rd International Desert Sculpture Symposium & Land Art Festival features artwork displayed in a desert setting, like this one in Minqin county, Wuwei city, Northwest China's Gansu province, July 20, 2019. [Photo provided to China Daily]
In July, the 2019 Minqin (China) Second Desert Sculpture International Creation Camp and the Land Art Festival, themed "Humanity, Green and Development", was launched in the Suwu Desert Scenic Area, Minqin county, Wuwei, Northwest China's Gansu province. Standing in the vast desert, 46 pieces of sculpture, created by artisans from 20 countries and regions, show a strong artistic appeal and visual impact, and became a new hot spot to desert tourism.
Located in the hinterland of the Tengger and Badain Jaran deserts, Minqin is like a green wedge blocking the closure of the two deserts. Generations of people here have created miracles in the vast desert with their hands and wisdom. Owning to the largest desert reservoir in Asia, Minqin plays a key role in local ecological restoration and shows infinite vitality again since the climate has been dry for half a century.