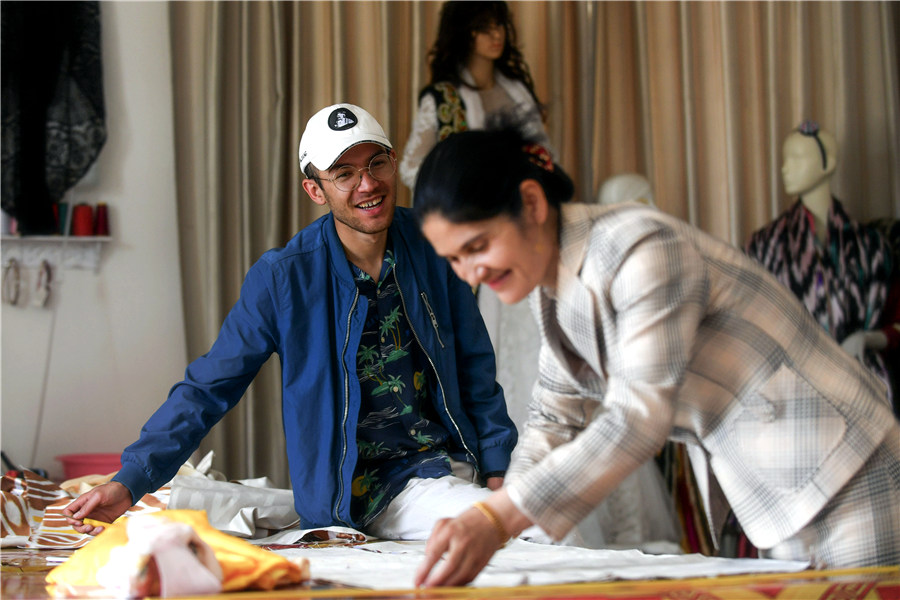 Maywulan Tulak discusses the design and materials for a traditional costume with his mother, Aygul Kasmu. [Photo by Ma Kai/Xinhua]
Craft work by ethnic people across the country has not only helped maintain China's cultural heritage, but also improved local people's lives.
Maywulan Tulak, a 26-year-old Uygur man, opened his boutique last year in downtown Kashgar, Xinjiang Uygur autonomous region. The store attracts connoisseurs of traditional dresses. Born and raised in Kashgar, Maywulan has a passion for the local culture, including architecture, music, dance and clothing. Two years ago, he launched his WeChat account, on which he broadcast his short video showing the changes in traditional Uygur costume over the past 100 years. He did research work in libraries and went to bazaars in search of old clothes, material and accessories. With the help of his mother, a noted tailor in the city, the young man has made more than 10 vintage costumes. People who stop by the store like to have photographs taken of themselves dressed in the costumes.