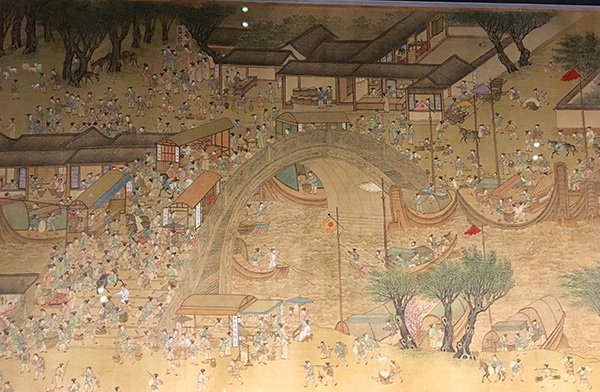 A Ming Dynasty (1368-1644) version of Along the River During Qingming Festival.[Photo by Wang Kaihao/China Daily]
And Along the River During Qingming Festival, the Song Dynasty landscape painting depicting the prosperity of Bianliang (today's Kaifeng, Henan province), then the national capital, remains China's best-known drawing. However, this item held in the Palace Museum in Beijing is regarded as too precious to travel.
But the exhibition curators came up with some good ideas to make up for their absence.
A Tang Dynasty facsimile of Lanting Xu from the Hunan Museum offers a taste of the romantic notions oozing from Wang Xizhi's pen. And in the Ming Dynasty (1368-1644) version of Along the River During Qingming Festival from the Liaoning Provincial Museum, painter Qiu Ying uses a similar layout to the original work to portray his hometown of Suzhou, Jiangsu province.
The exhibition also explores the influence that the artifacts had on fine art and future society.
"Using a horizontal timeline, we compare the exhibits to other similar items from their era," Chen Yuanping, director of the Hunan Provincial Cultural Heritage Administration, says. "Thanks to this multidimensional approach to explanation, each artifact becomes a single point in a vast network, which inspires us to think of its legacy today."
He continues: "The development of modern society requires us to seek references from the past."
This idea in some way also echoes the slogan for this year's International Museum Day, "Museums as cultural hubs: The future of tradition".
The Hunan Museum was also the main venue for celebrating International Museum Day in China, which was launched by the International Council of Museums in 1977 and falls on May 18 every year.
China had 5,354 registered museums at the end of 2018, 218 more than the previous year, drawing 1.12 billion visits last year, an increase of 100 million from 2017, Liu Yuzhu, director of the National Cultural Heritage Administration, said at the Museum Day event in Changsha.
Over 4 million visits have gone to Hunan Museum alone since December 2017, when a new wing opened.
Nearly 90 percent of Chinese museums are open to the public for free, Liu adds.
Liu says: "Visiting museums is a popular choice for Chinese people now to spend their holidays ... cultural relics help people to form a stronger national identity.
"And museums have also become guest rooms for us to present a global image of our country and enhance mutual understanding and learning among different civilizations," he says.
Suay Aksoy, president of the International Council of Museums, says in a letter to the ceremony: "China's rapid development in the museum sector over the last decade has greatly benefited the preservation of Chinese cultural traditions and secured them a sustainable future, and this is greatly appreciated by the international museum community.
"Given the country's thriving museum scene, Chinese museums have the remarkable potential to realize their role in society."