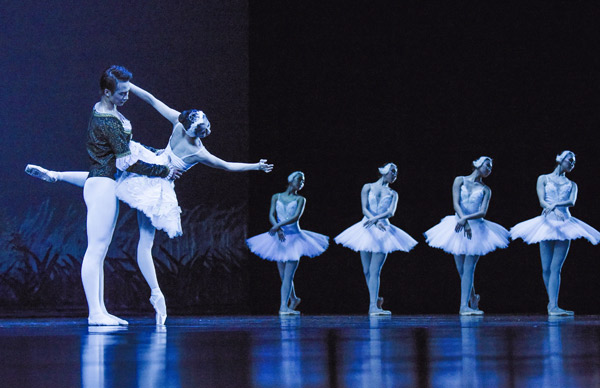 [Photo provided to China Daily]
These techniques added depth to the performance of the play, which is itself rich in traditional cultural elements.
The performance of Swan Lake on May 12, on the other hand, maintained the standard style of classical ballet and the troupe delivered a high-level of performance to the Japanese audience.
"The two plays of different styles represent the inheritance and innovation of traditions in the ballet field since China's reform and opening-up," Feng says.
Speaking about ballet exchanges between China and Japan, she says, "It should be about exploring how to carry on the tradition while also taking the path of innovation, especially in how to express Asian culture."
She says she was more than impressed by the hospitality and friendship from the Japanese dancers and the Japanese people.
"We communicate not only with the Japanese ballet circle, but also with the Japanese theatrical circle," Feng says. "I remember when I came to perform in Japan in the 1980s, Japan celebrated a coming-of-age ceremony. The Japanese troupe that received us also held a coming-of-age ceremony for the young girls around the age of 20 in our ballet group.
"I still remember the clothes and makeup, the genuine enthusiasm and concern from our Japanese friends," she says.
"In recent years, the National Ballet of China has created many works with traditional Chinese cultural characteristics and also with the spirit of the contemporary era. We hope they can be staged in Japan in the future," Feng says.
"Our Japanese ballet peers have also been exploring how to express Asian culture through the medium of Western dance forms. I've seen them do ballet in kimonos, and they're also exploring new things," Feng says.
"I hope the Chinese and Japanese ballet circles will continue to strengthen communication and learn from each other. I also hope that such ballet exchanges will further promote communication between Chinese and Japanese people, as well as people around the world, and make a contribution to the building of Asian culture and world civilization," she says.