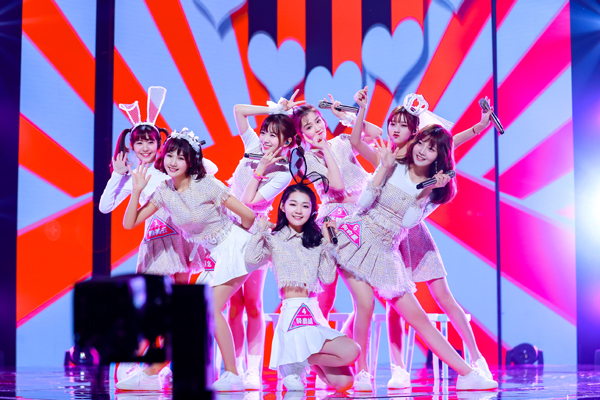 Produce 101 is one of China's popular online variety shows this year, leading a new wave of music idols. [Photo provided to China Daily]
The popularity of musical reality shows is once again on the rise, and producers are looking to tap into niche markets to ensure the genre's longevity, Wang Kaihao reports.
When Jiang Bin, a producer with iQiyi-one of China's three biggest video-streaming platforms-decided to make Idol Hits, he had little to refer to from the country's existing online variety shows.
As a new show, broadcast in September and conceived to enable musicians to hit the record charts, Idol Hits cooperated with Billboard China-a music-publication brand associated with the US music-business trade magazine, Billboard-to both show the singers' sparkling moments onstage and record their painstaking behind-the-scenes stories.
"It can be a professional platform for musicians to promote their new singles," Jiang says. "No matter whether they are established pop stars, folk musicians or newcomers to the industry, they are given a fancy stage upon which to show their talents and interact with fans."
"Everyone in China who is devoted to making original music has been expecting such a platform," says Cai Xukun, a musician participating in the show. "Musicians of different styles have a chance to get together. People can also see how we prepare for our performances."
There used to be some popular shows on traditional TV channels in China with a similar concept, but they have all but disappeared in recent years.
"The reasons were complicated," Jiang says. "Even music videos have become rarer and rarer in China due to low rates of return. As such, music fans will lose the visual impression of music that they had in the old days.
"Many Chinese musicians also have crossover careers in film, TV, advertising and all kinds of variety shows. That can sometimes distract from their music careers."
Jiang reveals that some musicians were reluctant to join the show at first because of their tight schedules. "However, it's worthwhile to overcome the early difficulties to have a successful model," he says. "To send a satellite into orbit will cost a lot, but once it's there, it can run itself."
Maybe the comeback of the genre will ignite a spark, fanning the flames of people's interest. Another internet company, Tencent, released its Uni Music Chart in October. And Youku, the other streaming platform in the Chinese industry's leading trio, announced that it will soon also have its own music-chart show.