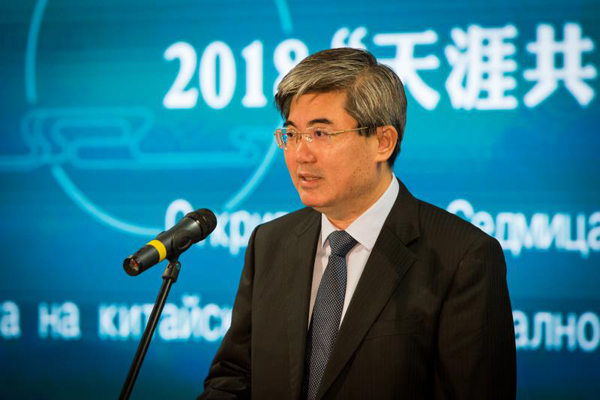 Chinese Ambassador to Bulgaria Zhang Haizhou gives a speech at the opening ceremony of the 2018 China (Ningbo) Culture Week at the Sofia Chinese Culture Center in Bulgaria on Sept 24. [Photo provided to chinadaily.com.cn]
The 2018 China (Ningbo) Culture Week kicked off at the Sofia Chinese Culture Center in Sofia, Bulgaria, on Sept 24.
At the opening ceremony, the Chinese Ambassador to Bulgaria Zhang Haizhou expressed the importance of maintaining a friendly and long-standing relationship between China and Bulgaria.
Beginning Sept 24, the China (Ningbo) Culture Week has featured more than 10 events under the theme of "Inheritance and Innovation, Collision and Integration", presenting the Bulgarian people with Chinese culture through exhibitions, performances, lectures and films. These include the qipao art show, symphony concert by Chinese conservatory musicians, short film show and outdoor film festival.
In addition, the week has showcased more than 100 Chinese traditional handicrafts, representing national intangible cultural heritage as well as the living inheritance of Ningbo culture through modern interpretation.
As an Eastern departure port of the ancient maritime Silk Road, Ningbo has always served as a messenger for cultural exchanges between China and foreign countries. Today, it actively participates in the construction of the Belt and Road Initiative, boosting China's economic and trade cooperation with central and Eastern European countries.
Yang Jin, deputy director of the Ningbo Municipal Bureau of Culture, Radio, Television, Press and Publication, said in a speech: "The Ningbo Municipal Government participated in the preparation and operation of the Sofia Chinese Culture Center commissioned by the Ministry of Culture and Tourism, which officially opened in November last year. This time, the China (Ningbo) Culture Week will be held on the occasion of the traditional Chinese Mid-Autumn Festival. We hope that more Bulgarian friends will know China, understand Ningbo and create a better future together with us." 
The director of Sofia's Cultural Bureau said she was very happy to be able to share traditional Chinese festivals with the Bulgarian people. At the beginning of this year, the Sofia Municipal Government signed a memorandum of understanding with the Sofia Chinese Cultural Center, and jointly organized many activities that were warmly welcomed by the people of Sofia. She hoped to continue to strengthen exchanges as well as explore and develop cooperation in various fields in the future.