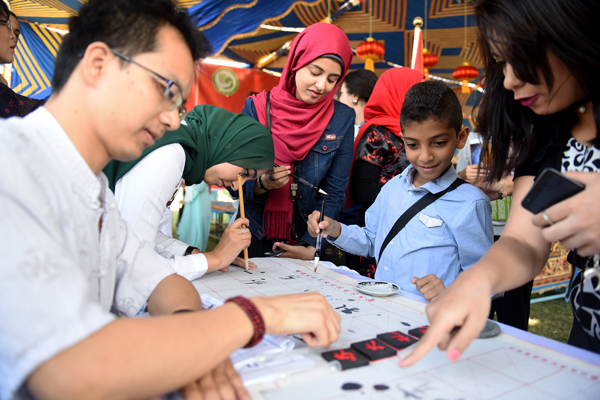 Local people experience calligraphy at a China Culture Week event held by the Confucius Institute at the Suez Canal University in Ismailia, Egypt. [PHOTO BY ZHAO DINGZHE/XINHUA]
ISMAILIA, Egypt-Hassan Ragab, the director of the Confucius Institute at the Suez Canal University in Egypt, has hailed the Chinese language institute for enhancing mutual understanding and cooperation between Chinese and Egyptian people.
Egyptian students are eager to learn about the Chinese language and culture as they see China as the model for developing countries, says Ragab.
Ragab, who received a PhD in Chinese literature in China in 1995, has just returned from a two-week summer camp in China, in which 20 Egyptian students learned about Chinese cooking, writing and literature, in addition to taking part in sightseeing tours.
More than 1,500 Egyptian students are now studying in Chinese universities, while some 600 others joined the Confucius Institute in 2017, he says.
In 2018, more than 300 students applied to join the Chinese Department in the Language Faculty of the Suez Canal University, which originally planned to enroll just 30 students, says Ragab.
There are two Confucius Institutes in Egypt, one at the Suez Canal University and the other at Cairo University, with branches in other provinces.
The Confucius Institute at the Suez Canal University also holds classes at the China-Egypt TEDA Suez Economic and Trade Corporation Zone, the British University and the Helwan University, with more classes to be opened soon in three other universities.