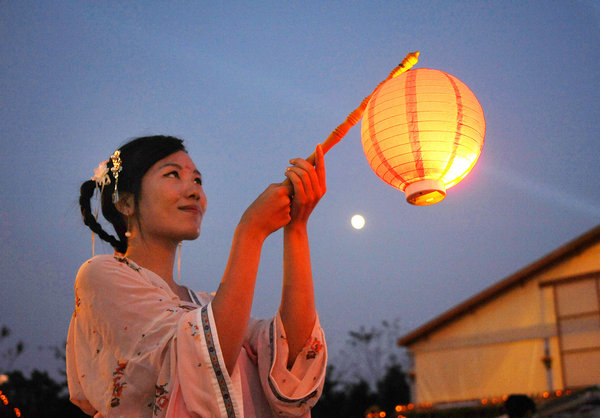 The term "Mid-Autumn" first appeared in Rites of Zhou, a classic almanac written during the Warring States Period (475-221 BC).YANG YI/FOR CHINA DAILY
Despite the difficulty booking train tickets and the inevitable huge crowds, Lin Xuejuan travels about 200 kilometers from Shenzhen, where she works, to her hometown Shanwei, Guangdong province to spend the Mid-Autumn Festival every year.
"It's a ritual to go back home for such a traditional festival," says Lin, 28.
Since she started working at a health service company in Shenzhen in 2010, Lin has rarely missed an opportunity to attend family gatherings, unless she's caught in work.
"Nowadays we are always busy with life and work, and rarely have time to meet and stay with family or friends far away. Such festivals give us a good excuse to reconnect with each other," Lin says.
According to Lin, going home for traditional festivals like Mid-Autumn is important, because she wants to spend as much time as possible with her grandmother, who is in her 90s.
Like Lin, millions of Chinese people travel home during the three-day break to spend the festival-one of the most important traditional festivals in China-with loved-ones, and train tickets are usually sold out long before it.
In recent years, the Chinese government has been making efforts to revive traditional festivals, including Mid-Autumn, which was made a public holiday in 2008 and was listed as part of the nation's intangible cultural heritage in 2016.
The Mid-Autumn Festival has a long history, with lots of related traditions that are passed down, alongside new trends that have grown up around it, especially in the cities.