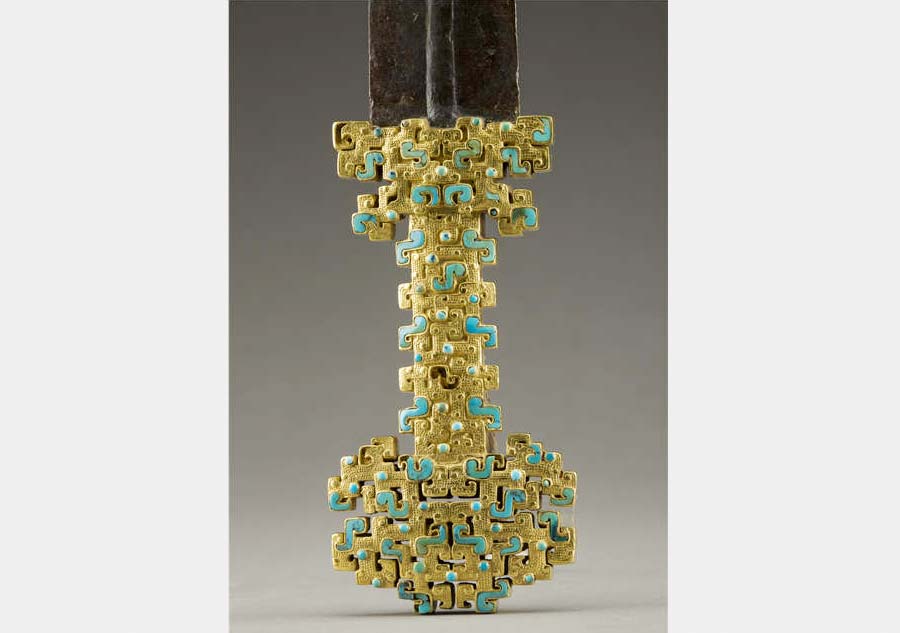 An iron sword with gold hilt decorated with panhui patterns and turquoises, Spring and Autumn Period (770-476 BC). [Photo provided to China Daily]
The treasures of an old center of imperial power and opulence go on display in a modern-day economic powerhouse.
As surprising as it may seem, Hong Kong and the province of Shaanxi, 1,500 kilometers to the northwest, have a common heritage: the two places were at the crossroads of international exchanges, cultural and commercial.
Of course there have been differences, too. Shaanxi's heyday was between the 7th and 10th centuries as a powerful Tang Empire ruled China and many of its current surrounding regions from the province. Hong Kong, a speck in the South China Sea, would not burnish its credentials as a financial powerhouse until more than a millennium later, a century after the British colonized the island in the mid-19th century.
Yet the unique cultural identity of both was minted as a result of a wind from the west-in Tang's case-and waves of influence that constantly broke on its shore-in Hong Kong's case. While Hong Kong has remained vibrant, its culture continually forged and shaped by multiple forces, Shaanxi has settled down over the centuries, as an inner Chinese province that is relatively secluded, museums being one of the most obvious repositories of its glorious past.
And now that glorious past burns brightly in Hong Kong as the special administrative region celebrates the 20th anniversary of its return to China. Among the items being exhibited at the Art Museum of the Chinese University of Hong Kong are nearly 60 pieces (sets) of goldware and silverware, whose shimmering surfaces reflect not only the artisanal development of China, but also the country's history in general. All exhibits are from Shaanxi.