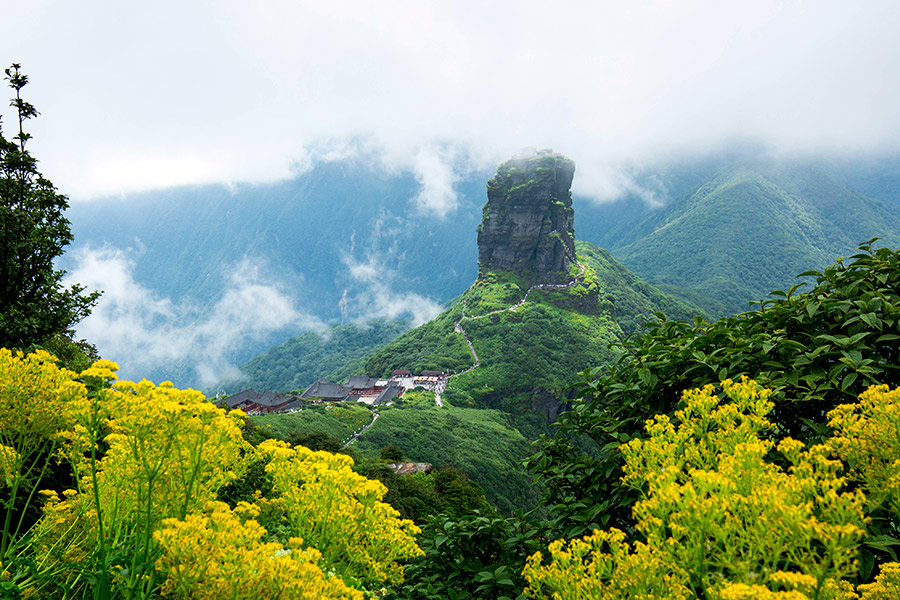 A file photo of Fanjing Mountain in Guizhou. [Photo/Xinhua]
Category of Site: Natural site
Brief introduction
With a history of more than two thousand years, Fanjing Mountain is a famous cultural mountain located in Tongren city, Guizhou province. It is China's fifth-largest sacred Buddhist mountain and the main peak of the Wuling Mountains, with an elevation of 2,572 meters.
It was identified as the world's most well-preserved primeval forest, with 4,394 kinds of plants and 2,767 kinds of animals, one of the most abundant in the oriental deciduous forest biological areas.
It is also the only habitat for the Guizhou golden monkey, a key region for the distribution of Fanjing Mountain firs, the most abundant area for gymnosperm in the world, and the most important protective area for beech forests in Asia.
In July 2018, Fanjing Mountain was added to the World Natural Heritage List.
Natural heritage
Fanjing Mountain stretches on an area of 402.75 square km with a buffer zone of 372.39 square km.
The ecosystem of Fanjing Mountain has preserved large numbers of ancient relict plants, rare and endangered creatures, as well as unique species.  It is home to 4,395 species of plants and 2,767 of animals. As the most important reserves of beech forests in Asia and the world's most gymnosperms-rich area, the mountain is also the only habitat of the rare Guizhou snub-nosed monkey and the Fanjingshan fir.
In October 2013, Mount Fanjingshan was listed as the national natural heritage of China, after which it was proposed by China as the country's only natural heritage nomination for 2018 world heritage meeting.
The International Union for Conservation of Nature (IUCN), official advisory body on the natural sites of the UNESCO heritage meeting, said Fanjingshan has proved its aesthetic value as a natural heritage site and met the criteria of world natural heritage, which require the nominated sites to demonstrate outstanding biological diversity and integrity.