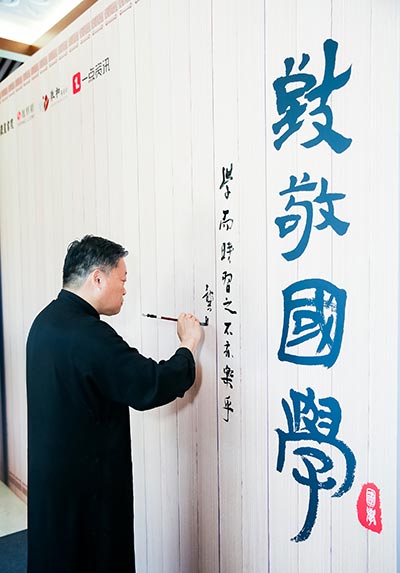 Gong Pengcheng, head of Peking University's Cultural Resources Research Center, displays the beauty of Chinese calligraphy. [Photo provided to China Daily]
The mission to develop guoxue, the study of traditional Chinese thought and culture, is an arduous journey requiring the effort of today's youth and future generations, experts asserted at a recent education forum in Beijing.
The forum, co-hosted by Yuelu Academy, ifeng.com, Dunhe Foundation and Particle Information, released a report, which indicates that content pertaining to guoxue-loosely defined as the study of ancient Chinese civilization, specifically, subjects such as history, philosophy, literature and art-is gaining popularity among young Chinese.
By analyzing results from the big data system of the Particle Information app and a questionnaire from ifeng.com with 100,000 respondents, the report gives a rounded account of the age, gender, region and interests of people holding an interest in guoxue.
The report delves into the group of "guoxue youth", users aged under 36, who have subscribed to a guoxue channel on the Particle Information app. Within this group, users born in the 1980s account for nearly half with a significant 48.46 percent, followed by those born in the 1990s, with 32.47 percent.